Cool mist humidifier provides relief to people suffering from various health and allergy issues.
Although the unit is helpful in relieving many health problems (by adding cool mist of water vapor in the dry air), if used incorrectly it can cause havoc to the human body rather than any good.
Studies reveal that improper usage of cool mist humidifier is many times responsible for several skin allergies as well as breathing issues in people.
However by using the device properly along with regular meticulous maintenance and cleaning, it can offer great relief in dry air conditions and reduce various airborne illness.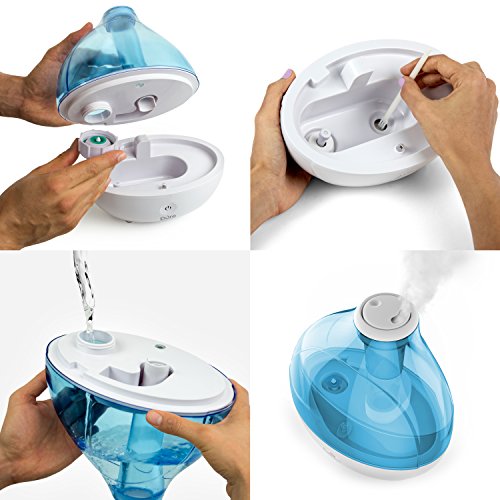 How To Use Ultrasonic Humidifier?
Knowing how to use a humidifier before actually using and running it in your home, is most important so that you do not face any negative outcomes.

No matter whether you are using a Vicks, Honeywell, Crane or any other brand; the basic steps to use or operate your device are same and should be followed with proper care.
Below mentioned are few essential tips on how to operate humidifier in a best possible way so that you achieve maximum benefits out of it.
1- Properly Place The Unit
While installing your cool mist humidifier unit, make sure that it is placed in a living room where everyone can get benefited from it.
However if you want to get the benefits of extra humidity personally, you can consider placing it in your bedroom.
Furthermore while installing the unit, ensure that it is correctly placed on a flat platform. It should be located at least 5 inches away from the walls or from any other nearby heat source.
Also take care that nothing is placed over the humidifier or near to it. This can block the air openings and can effect the running of humidifier.
2- Set Up The Device Correctly
There are different types of humidifiers available with varied features, sizes, and effectiveness.
As different humidifier brands and models comes with different setting, make sure that you read the manufacturer's instructions and guidelines on how to operate your specific humidifier model in a hassle free manner.
Following the guidelines will help you assemble the unit (if needed). Also it helps to maintain the cleanliness while operating so that you enjoy the benefits best.
✅ Also Read: How To Use A Humidifier with Essential Oils?
3- Use Filtered/Distilled Water
Now when you have placed and installed your device correctly, it is time to rinse the humidifier tank or reservoir and add fresh distilled water.

Although you can use simple tap water, majority of the manufacturers suggest using filtered or distilled water as it has lower mineral count and lesser amount of impurities as compared to tap water.
The filtered/distilled water actually lowers down the growth of micro-deposits on the unit, thereby lowering down the contamination and odor.
You can use Faucet water filter or water demineralization filter to get cleaned and filtered water for your device.
Using these you can rest assure that your device is safe and the air your breathe is pure, fresh & harmless.
4- Keep A Check On Humidity Levels
The recommended relative humidity level of 50% or less should be maintained to avoid the damage caused due to over humidity/moisture in the air.
This is also important to prevent the development of microorganisms such as bacteria, molds and fungi which gets borne in warm humid conditions.
If you see condensation on your glass windows or feel the dampness on your curtains, it is sure that the unit is generating too much of moisture into the air. This is not right and should be avoided!
There are several hygrometers available in the market at a very low cost. Installing one can easily help you to keep a check on the humid levels in your room.
✅ Also Read: How To Use A Humidifier For Babies?
5- Functioning, Safety and Cleaning Tips
Cool mist humidifiers utilize electricity as a main power source.
And since the appliance also disperses water, there is a risk of electric shock if appropriate care is not taken while operating the device. Few important things you need to take care include:
Never operate the appliance with a damaged cord or plug
Never fill in the water tank when the unit is plugged in
Unplug the device while cleaning it in safe dry place
Supervise carefully when your pets and kids are nearby
Finally, cleaning of the humidifier should be done every 3rd day after continuous use. While cleaning, care that you use only recommended cleaning solutions and clean water.
Cleaning of the device hardly takes few minutes and if done properly you need not have to waste the entire day for it.
Eliana is a nurse by profession who loves writing online, spending time with her family and caring for seniors. She has already worked as an associate editor on various mom, baby, home appliances, kitchen and healthy living blogs. In her spare time she also enjoys drawing, reading/writing kindle eBooks and improving her skills a bit.