Cool mist humidifier provides relief to people with breathing/respiratory problems such as asthma. The unit is helpful in lowering down such problems as it adds cool water vapor in the dry air.
However, if used improperly it can cause other health problems and several respiratory issues instead of providing relief.
Studies reveal that improper usage of cool mist humidifier can be responsible for several skin allergies as well as breathing issues. With meticulous maintenance and cleaning, cool mist humidifier offers relief in dry air conditions and reduces airborne illness.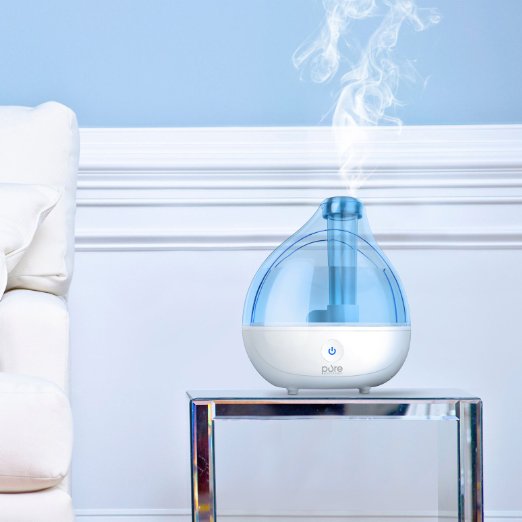 Below mentioned are the tips on operating the humidifier that serves you the purpose.
Proper Placement and Location: While installing and running the cool mist humidifier unit, make sure that it is correctly placed on a flat platform. It should be located so as to keep at least 5 inches away from the walls or any heat source. Also it should be taken care that nothing should be placed over the humidifier or near to it. This can block the air openings and can effect the running of humidifier.
Use Filtered/Distilled Water: Majority of the manufacturers of cool mist humidifiers suggest using filtered or distilled water as they have lower mineral count and have less of impurities to that of tap water. The filtered/distilled water also lowers down the growth of micro-deposits, which is less smelly and less contaminated.
Keep Tabs On Humidity Levels: To avoid water vapor damage and to prevent the occurrence of microorganisms it is important to monitor the humidity levels. Try to maintain a relative humidity of 50% or less.
If you see condensation on your glass windows or feel the dampness on your curtains then it is sure that the unit is generating too much humid. This is not right and should be avoided.
Having more than 50% of humid level gives boost to the fungus, mold, bacteria etc. Therefore it is important to keep an eye over the humid levels. There are several hygrometers available in the market that helps you keep tab about the humid levels. This way monitoring becomes easier.
Proper Functioning: Cool mist humidifiers utilize electricity for the power and since the appliance disperses water there is a risk of electric shock if appropriate care is not taken.
You should never operate the appliance with a damaged cord or plug.
Never fill in the water or disperse water when the unit is plugged in.
While cleaning make sure that it has been completely unplugged and the clean it in dry safe place.
Also, supervise when your pets and kids are nearby.
Care & Cleaning: It is recommended that cleaning should be done every 3rd day after continuous use. Meticulous maintenance and care will provide you with clean environment and proper functioning of the unit.
Care has to be taken that you clean the cool mist humidifier with the suggested cleaning solutions only and scrub appropriately as suggested in the user manual. The cleaning of the device hardly takes few minutes and if done routinely you need not have to waste the entire day for it.
Whenever you decide to buy a cool mist humidifier make sure that you follow the manufacturer's instructions on how you can keep it clean and operate it hassle free. Following the guideline will help you maintain the cleanliness and serves the purpose.
There are different types of humidifiers available with varied features and effectiveness. Before buying determine your requirement and know about which humidifier will be suitable to the members of your family.
Look for the units that are hassle free to clean and to maintain. Also, insist on buying lighter weight models since they are easy to carry wherever you require.