Optimum humidity in the house or at the workplace creates a balanced atmosphere and ambiance for better productivity.
This can rightly be done when you have a device that can measure or monitor the relative humidity levels near your surroundings.
Here comes the importance of humidity measurement and a humidity monitoring device – called a Hygrometer.

What is A Hygrometer?
A hygrometer (also known as a humidity gauge, humidity meter, or humidity monitor) is a device solely used to measure and monitor the amount of moisture present in the air.
The device comes in different sizes and models to suit the needs of people with varied demands.
Traditionally these devices are used only to measure the relative humidity levels.
However, with the advancement in technologies, these are presently equipped with innovative features that can measure relative humidity and temperature.
The working principle of a hygrometer is very simple. It works with a sensor that helps in measuring humidity levels and the temperature of the atmosphere.
The sensor mechanism in the humidity gauge device can detect electrostatic changes in the air according to the humidity changes in the air around the sensor.
Thereby helping you maintain proper humidity levels that are most comforting, healthy, and hygienic.
5 Best Hygrometer for Home Use
With the best humidity gauge, moisture levels of a particular place can be measured – whenever necessary it helps you to adjust the same by using humidity control equipment (a humidifier or a dehumidifier).
However, as a range of monitoring systems are available online, you may get confused when buying one for your room.
Below we review some of the best models that are now available online. You can pick the one that suits you best based on your requirements.
1- ThermoPro Hygrometer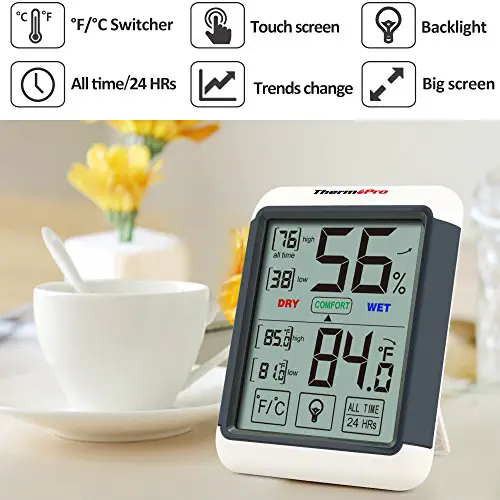 The ThermoPro TP55 is an extremely accurate indoor moisture meter device that comes with professional quality sensors.
One of the few models features a backlit display for easy night reading – the light turns off automatically after 15 seconds.
It has a bright blue backlight for its large 4 " LCD screen, one of the largest of all models. It also has a memory function, so you can easily see past lows and highs.
It measures the temperature from -50 ° C to 70 ° C (-58 ° F to 158 ° F) and humidity between 10% and 99% relative humidity.
In addition, it is easy to change settings using its touch screen without disassembling the device from your wall or refrigerator.
And with the magnets pre-installed in the back, it's easy to hang on the fridge, on the wall with any metal, or in a metal bookcase.
Although this hygrometer displays readings in real-time, it allows you to view the recording of the last 24 hours.
The TP55 also has a low battery indicator, so you know exactly when to make a replacement.
Pros:
It has a modern design
It's a nice size and has a practical crutch
It has a large metrics display and is easy to read
The device is reasonably priced and affordable
offers wall mount, table stand, and magnetic rear mount options
The cost of using 2AAA batteries is minimal- it lasts at least 2 months
Cons:
The reading response of the gauge is slow
No functionality to adjust or calibrate the gauge
The buttons on the touch screen are very sensitive, even for a small touch
2- AcuRite Humidity Monitor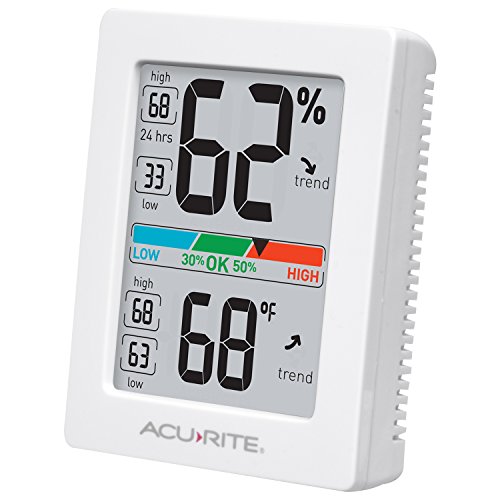 The AcuRite 01083M Pro Accurate Indoor Temperature and Humidity Monitor efficiently provide you with the latest records of temperature and humidity.
Its easy-to-read and bold LCD includes a comfort level indicator and temperature/humidity trend indicators.
The temperature and humidity of the AcuRite 01083M can be manually calibrated when location or environmental factors affect the accuracy of the data.
The AcuRite 01083 is anything but difficult to support or mount quickly anywhere in your home.
It can be placed vertically on a work area or table or can be mounted in a divider. It can also be mounted on a wall or metal surface with built-in magnetic tabs.
AcuRite 01083 is accurate within ± 0.5 ° F and ± 2% RH. An expansive spectacle shows the humidity and temperature, as well as the highs and lows of the last 24 hours.
There is also a shade-coded humidity level indicator, indicating whether the humidity levels are too low, too high, or reasonable.
Overall, if you are looking for an essential humidity screen with exceptional precision at a reasonable value, this is the right choice for you.
It is an essential element for any home or office to ensure a comfortable living/working space or to preserve the interior and valuables of a home.
Pros:
Easy to read the display
Cheap hygrometer for the home
Easy to assemble or mount anywhere
Cons:
No remote monitoring features
3- Extech Hygrometer with Probe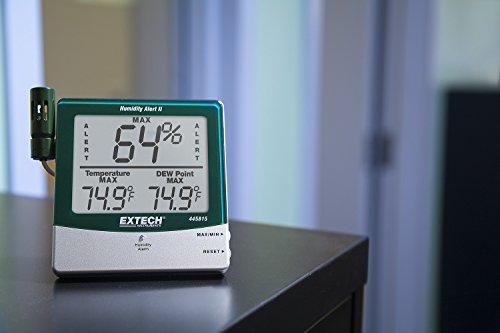 Extech 445815 offers extensive exposure showing the current level of humidity, temperature, and dew point of the room or area in which it is located.
As with WS-10 ambient time, you can set the lowest and highest humidity values, as well as perceptible and visual warnings when humidity exceeds these levels.
For starters, in addition to showing you the heat and humidity levels of your home, it also displays the dew point reading – it's smart too.
Specifically, the Extech comes with a programmable setpoint that provides an audible and visual warning when the humidity level exceeds the preset high or low limits.
The most notable component of this sensor is the remote test, which has an 18-inch link to estimate behind dividers, in ducts, or different hard-to-reach areas.
In addition, it incorporates a work area for activity on a work area or other flat surface, in addition to a section for mounting the divider.
Precis is the name of the game with Extech. It measures humidity from 10 to 99% of the temperature from 14 to 140 degrees Fahrenheit with an accuracy of ± 4%. ± 1.8 ° F.
You can even get a calibration kit (sold separately) to increase accuracy. And to top it off, this hygrometer complies with ISO standards.
Similarly, Extech is NIST certifiable, which allows it to meet the requirements of ISO and other administrative bodies for accuracy and traceability of items, as well as compliance with benchmarks.
Pros:
Large, easy-to-read display
It also includes an alert option
It can measure temperature and humidity
Cons:
No remote monitoring
Data storage is limited
4- SensorPush Wireless Thermometer/Hygrometer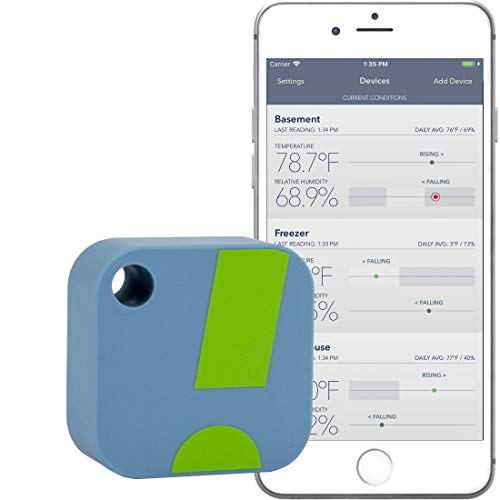 If the temporary stick is not part of your financial plan, the next best hygrometer is the SensorPush.
This computerized hygrometer is an incredible choice for checking the humidity conditions in your home.
In perfect conditions, without any obstacle, this sensor has a range of 325 feet, thanks to a Bluetooth association.
One, it is compatible with the free Smart Sensor app. By extension, this means that you can monitor your home's humidity and temperature levels directly from your smartphone.
You can even export the data to applications such as Microsoft Excel.
And just like the best temperature and humidity level the meter should have, this one monitors conditions 24 hours a day.
And the beauty of this feature is that you can add a G1 Wi-Fi gateway for access and alerts wherever you are (if you are in an area with an internet connection, of course).
The SensorPush performs reads (consistently) and can accumulate up to 20 days of information inside the gadget itself.
In this way, if you move away from home for an hour or seven days, the SensorPush continues to observe and store the information you need to recover once you reconnect.
Like the Temp Stick, the SensorPush app (available for iPhone and Android gadgets) stores unlimited information.
Pros:
Affordable
Compact and lightweight
High precision and reliability
Cons:
The Bluetooth range can be limited
5- Inkbird Temperature and Humidity Controller
ITC-608T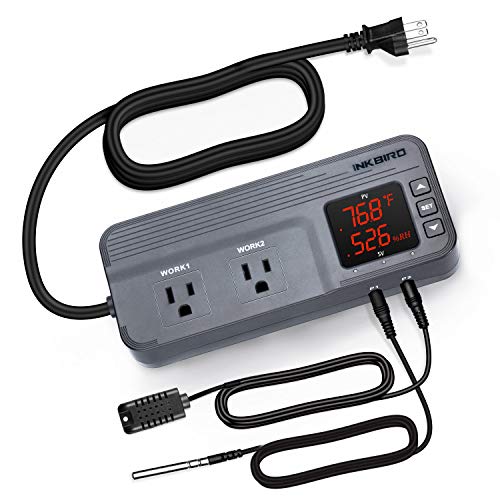 ITC-608T is a bit different than other models as it not only monitors the environment but also controls it. It features a multifunction control mode to control both temperature and humidity.
You have an option to control a single temperature and have 12 different periods for the temperature control mode. Or just control the humidity with the moisture of the plug sensor.
ITC-608T is a good choice for home brewing, fermentation, greenhouse, terrarium, reptile, plantation, meat storage, and cooking. This unit supports degrees F and C, compression delay, calibration, and save setting values.
Above all, this temperature and humidity controller ITC-608T comes with an ETL certificate (approved by the United States and Canada) which means it is much safer to use.
Pros:
Very easy to configure and use
Selection of temperature and humidity sensor
High and low temperature/humidity alarms
Support reading with Celsius or Fahrenheit unit
Control temperature and humidity at the same time
Cons:
The instruction manual is a bit long
It does not have an overloaded circuit breaker
Types of Hygrometer
Although hygrometer devices come in various types, there are very few of them that are most commonly used in homes and industries.
The two most popular types that are generally used by most homeowners are:
1- Digital Hygrometer
A Digital Thermo hygrometer (or simply a digital hygrometer) is the most common one that is used in homes and offices.
These come with an electronic capacitive sensor and an integrated analog-to-digital converter.
While the simple ones come with a sensor to measure the humidity, there are also ones that can measure the room's temperature.
Digitally measuring the humidity as well as temperature helps in maintaining the most comfortable environmental conditions indoors.
2- Analog Hygrometer
An analog hygrometer works slightly differently from a digital hygrometer model. These devices make use of springs that can get loosened or tightened with the change in humidity levels.
Unlike the digital ones, these come with stylish and elegant looks. The best benefit of using these models is their ability to deliver higher precision measurements as compared to digital ones.
The only downside of analog models is it requires regular tuning up to deliver accurate results. Also, if you choose the cheaper models, these may not perform as accurately as they should.
Hygrometers are further categorized based on the method these devices use to measure the humidity levels of the surrounding. These include:
Psychrometers
Electrical Hygrometers
Mechanical Hygrometers
Dew Point Hygrometers
Research hygrometers
In addition to the above, the humidity meters that are commonly used are wet and dry bulb hygrometers, Hygrothermographs (or thermo-hygrograph), Gravimetric hygrometers, and Chilled mirror hygrometers.
How Does A Hygrometer Work?
If you are keen enough to know more about hygrometers and the process by which they work so accurately, let me briefly tell you about the process.
Since digital and analog models are the most common models used by homeowners, we will try to focus on them.
How does A Digital Hygrometer Work?
A typical digital or electronic hygrometer comes with either resistive or capacitive solid-state sensors that help determine the surrounding air's humidity levels.
In simple words, we can say that the device calculates the humidity by measuring the resistance or capacitance of an air sample in which it is being placed.
Resistive sensors in the device use a ceramic material piece through which electricity is fed when exposed to air.
As soon as the water vapor in the air gets high more of it gets condensed inside the ceramic piece, thereby affecting the resistance.
And by measuring the amount of electric current that flows through, the device then suggests accurate relative humidity levels.
Capacitive sensors in the device use two metal plates placed with air in between them.
As the water vapor increases in the air, the capacitance of the plates gets affected due to the increased water in the air.
And by determining the amount of charge these plates can store, the device then instantly suggests the accurate humidity levels.
How does An Analog Hygrometer Work?
Unlike electronic or digital devices, an analog hygrometer device uses a composite coil to measure the relative humidity levels.
The coil is generally made of a thin metal strip amalgamated with hygroscopic material such as a paper polymer.
When absorbed, this moisture absorbent expands the excess water vapor while the metal strip remains consistent.
This results in the coil getting bent or rotated, which moves the needle present on the dial to show the relative humidity level.
As soon as the air becomes dry, the moisture from the material gets evaporated, which causes the coil to get contracted.
This will again move the needle on the hygrometer dial to show the current levels.
How To Calibrate A Digital Hygrometer?
Calibrating your new digital hygrometer is a crucial step that will play an essential role in your humidity monitoring process.
Having bought a hygrometer for your home use, you should know how to calibrate and use it to get the most out of your device.
The video below will help you learn how to calibrate the hygrometer for the first time.
Since the sensor measurements can drift over time, you should occasionally inspect and re-calibrate your device occasionally to ensure accuracy.
Hygrometer Uses and Common Applications
Shopping for the best humidity monitoring device requires you to consider many factors.
One of the most important is to check your requirements.
Based on the use, you can choose the device that is most suitable for you.
✅ At-Home Use
The decrease in humidity can promote the growth of bacteria, fungus, mildew, and mold.
While the increase in humidity can impose the risk of growing molds around the corner of the house, making it unhygienic to live in.
A humidity gauge or a monitoring device in a room can easily help the residents to control the humidity levels inside.
Especially when you have an allergic patient around, the device can prove helpful by not aggravating their conditions for them, which are generally caused due to low or high humidity.
✅ Industrial Use
A hygrometer is not only found helpful in homes but also for sufficing the need in industrial spaces, incubators, museums, office buildings, and in general – wherever humidity is a matter of concern.
Humidity tracking and measurement are among the most important factors to consider in industrial units to ensure a smart working atmosphere.
Sensors in hygrometer help a lot in data logging and recording, mapping, and validation for creating reports.
Using a hygrometer makes it easy for the data logger to take the recorded measurement of the moisture levels.
When change occurs, the sensor makes the measurement and converts it to humidity readings to record it immediately in real-time.
✅ For Humidors
A good hygrometer is essential if you carry your expensive cigars in a humidor (wooden case).
Although few of the humidors come with a built-in humidity meter, these are often found to be of low quality.
Investing in a separate high-quality best cigar hygrometer is therefore essential to keep your cigars fresh and full of flavor for long.
While buying, make sure that it is small enough to fit into the case and accurate enough to measure the humidity levels simply.
✅ For Terrariums
It has been seen that changes in climate can have devastating effects on your pet reptiles.
During times of dry winters and extreme temperatures, there is a lack of humidity and moisture in the air. This creates an ill impact on them.
Proper steps, if not taken on time (to measure and monitor the atmospheric conditions within your terrarium), can make the conditions worse for them.
When choosing a particular device for them, do not forget to do a bit of research on the type of pet you have (reptiles, dogs, cats, or others).
Remember that your research should include the ideal temperatures and humidity levels that are best needed for them.
And based on that, you should choose the best hygrometer for your reptiles that are long-lasting and accurate.
✅ For Greenhouse
Based on the fact that you're indoor plants need the right humidity to survive, you essentially need the most accurate monitoring device in your greenhouse to measure the moisture levels inside.
Installing a Digital Thermo Hygrometer can help you control these levels correctly.
Keep a note of the type of plants you have in your grow room and understand the right atmospheric conditions (humidity & temperature) they need to thrive without getting suffered from any adverse conditions like changes in climate.
✅ For Instrument Cases
Just like cigars, few musical instruments like guitar needs moderate humidity while they are stored or not in use.
This is because different kinds of wood react differently to the climate, causing the varied warping and cracking effects in the guitar and its wooden case.
If you have just purchased a new guitar, consider investing a bit more to get a good humidity controller/monitor so that you can keep them safely in a proper way.
✅ For Food and Wine Storage
There are several food items, wines, drugs, and other similar items that can only maintain their quality under moderately humid conditions.
Therefore, monitoring and maintaining the relative humidity levels is the most important.
And no wonder this can only be done when you install a good humidity gauge in these storage spaces (like food storage jars, wine cellars, etc.).
Humidistat vs. Hygrometer: What Is the Difference?
Humidistat is often confused with Hygrometer, and the two terms are often used interchangeably in place of one another.
It is therefore essential to know about the fundamental difference between both before you use one or both of them to maintain proper humidity.
✅ A hygrometer is an instrument that is used to measure or monitor the humidity levels in the atmosphere.
Its only function is to provide a digital or manual reading of the moisture level inside the room.
✅ Humidistat, on the other hand, is a device that is built into an appliance used to control the humidity levels of the room or whole house.
These are usually built-in controlling devices installed with/into an appliance to maintain the desired humidity levels automatically.
While differentiating between both, it is to be remembered that a hygrometer can be used to know whether or not you need a humidifier or a dehumidifier in your home.
Humidistat, on the other hand, when combined with a humidifier or a dehumidifier, helps in controlling the levels of moisture in your home to keep it at the desired level.
Features to Consider when Buying A Digital Hygrometer
While buying quality humidity monitoring equipment does not need many skills on your part, it is good to consider a few factors while picking one.
Some of the essential features you need to check and compare are:
✅ Size
Although most of the hygrometers are available in a compact size, there are few traditional ones that can be bulky to operate.
Especially if you want a device for your small room or a case, the size you pick will matter much.
In addition to the right size, a mounting mechanism (like magnetic or any other) is also a good thing to check before you buy a good compact size hygrometer for your particular space.
✅ Ease of use
Well, this is pretty obvious.
The indoor humidity monitor you choose to pick can be said to be the best – only if it is straightforward to operate.
It should not have a complex user interface, settings, or buttons.
Instead, it should feature an easy-to-read display that is large enough for anyone to read (including the old seniors in your home).
If the device comes with a built-in controlling app, just make sure that it is also convenient to understand and operate.
✅ Accuracy of the Instrument
The device's accuracy is one of the most crucial factors that come into play when choosing a good hygrometer for your home.
Upon looking at the different available models on the market, you will come to know that these devices come with varied accuracy ratings and ranges.
Getting a device with a NIST certification seal is one way by which you can ensure that the product you are getting is reliable and accurate.
This seal on an instrument means that it meets ISO and other regulatory body requirements.
Alternatively, you can make sure that you pick the one that comes with a ±1% RH sensor accuracy rating. This will help you get the most accurate results.
If you do not find any such device, you can go with a device that comes with up to ±4% RH (and not beyond that).
✅ Internet Connectivity for Remote Monitoring
This is a crucial aspect to look for, particularly if you want to get the readings far away from home (like when traveling).
Getting a device that can be accessed remotely via an app offers you such an essential feature.
Since these can also alert you when you have excess humidity (than the desired levels) at your place, you can take action on time and avoid certain damages caused due to excess humidity.
✅ Cost of The Product
The price of the instrument you pick matters a lot, especially if you have a limited budget.
Hygrometers' price varies depending on their overall quality and list of features (or capabilities).
Hence you should know your budget (the amount you want to spend) before narrowing down on your choices.
You must set a realistic budget to help you get a quality product (with all the desired features) that meets all your home hygrometer needs.
In addition to the above, a few other factors you may need to consider include:
Consider buying an expandable hygrometer if you want to use the device for accessing the reading in multiple spaces/rooms.
When buying a device for outdoor use, consider getting a sturdy design and model that can tolerate extreme humidity swings and harsh weather conditions.
Check about the type of power source (or batteries) that needs for operating the device. If there are batteries, consider how long they can last before replacing them.
Overall, the latest technologies (like remote monitoring capabilities from your smartphone, touch screen display, Wi-Fi enabled, etc.) are the most important things you need to check for if you want to get a modern humidity monitoring system for your home.
Just invest some time to research and make sure you pick the right model that suits your specific needs.
Are cheap hygrometers accurate?

Buying a cheap hygrometer does not necessarily mean that it's not accurate. The price of hygrometers is rather dependent on the features. Some devices come with the capability to measure temperature and a few other environmental factors, in addition to the relative humidity levels. If you decide to buy a cheaper version, you will get a device that can measure humidity and nothing else.


What unit does a hygrometer measure in?

Hygrometers are designed to measure the amount of moisture or humidity in the air. Most of these devices display their readings in the amount of moisture that's present in a given volume of air. The most common unit of a hygrometer device is milliliters per cubic centimeter.


Where should a home hygrometer be placed?

A hygrometer should be placed at a location where you want to measure the amount of humidity. It's best to locate it at a place in your home that is away from the kitchen or a bathroom, as it produces the maximum amount of humidity in the home and can affect the readings. Since most of these units are small and portable, you can move them around and place them in your bedroom or a living room where the family spends most of the time.


What is the difference between a hygrometer and a hydrometer?

A hygrometer is a device that measures relative humidity (the amount of water vapor in the air). Whereas a hydrometer is a device to measure the density or specific gravity (SG) of a liquid (by making it float in the liquid).


To Conclude
Picking a modern hygrometer for home use is most important if you want to accurately measure the relative humidity inside your home.
They can help you get live accurate RH readings and also measure the temperature inside your room if you choose to get a unit with better capabilities.
Consider investing in a good home hygrometer, and I am sure it will help you measure your indoor humidity for very long without any issues.
Meen Smith is a nurse by profession who loves writing online, spending time with her family and caring for the elderly. She has already worked as an associate editor on various moms, babies, home appliances, kitchen, and healthy living blogs. In her spare time, she also enjoys drawing, reading/writing kindle eBooks and improving her skills a bit.