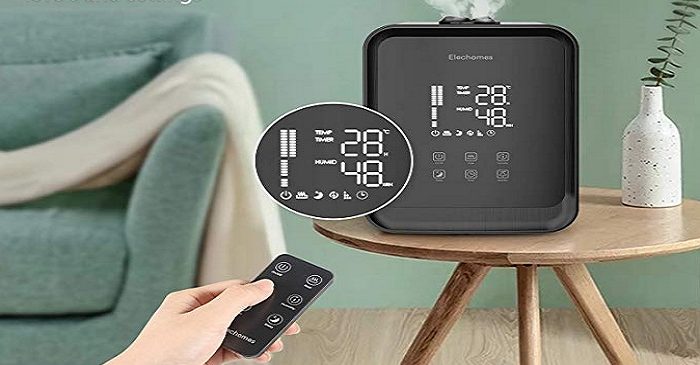 Usually, the humid levels within your home should range from 35 – 50%.
But not all humidifiers are up to the mark in balancing these humidity levels on their own.
While installing a humidifier, you may need to place an additional humidity sensor device in a room that can monitor the humid levels.
You need to alter the humidity levels based on the readings every now and then.
But Worry Not!
All these hassles of the past are now replaced with changing technology.
A humidifier with a humidistat or hygrometer is an all-around solution for you these days.
Not only does it work automatically to keep balanced humidity levels in your room or building, but it also saves you from all the hassles of monitoring the humidity levels regularly.
Especially for the dry winter season, a cool-mist humidifier with humidistat is the most needed appliance in your home to regulate and discharge the cool mist of humidity in the air automatically.
High tech humidifier like this is essential to keep your family healthy and safe from the deadly effects of cold winter air.
Benefits of Humidifier with Humidistat
The built-in humidistat with an LCD is perhaps the best feature to have in modern-day cool mist humidifiers.
With this humidifier, you just need to set your desired humidity levels and the device start humidifying the room to maintain the levels to your desired limit.
After reaching these levels, it stops automatically to start again when the humidity levels drop.
Some of the best advantages of installing this type of humidifier in your home are:
✅ Do Not Over Humidify
A room humidifier without a humidity control feature like a humidistat can over-humidify the room after a certain point in time. This can lead to severe problems related to mold and fungi.
On the other hand, an ultrasonic humidifier with a built-in humidistat monitors the humidity in a room automatically and can consistently maintain the optimum humidity levels between 40 – 55.
These can practically prevent the development of molds and other allergens due to high humidity problems.
✅ Low Noise and Less Maintenance
Unlike other typical air humidifiers, a humidifier with a digital humidistat is much more silent and delivers the most satisfactory performance without any hassles of cleaning and maintenance.
It just requires an occasional changing of cartridge or filter (every three months, depending on the water conditions), and you are good to go for the whole season.
✅ Less Hassle to Refill The Water Tank Regularly
As a humidifier with a humidity sensor maintains the optimum humidity automatically and does not over-humidify your area, no water is wasted.
Since these machines require less water, the water tank in these humidifiers lasts for more days compared to those without a humidity-control hygrometer.
7 Best Humidifiers With Humidistat Reviews
Very low and an extra dry, humid atmosphere can cause several health problems, including sore throats, dry skin, sinus, and other respiratory congestion.
If you are excited about trying the best-advanced features of these humidifiers with a built-in hygrometer, here we review some of the best models for you to check.
You may pick one among these based on your personal preference and requirement.
1- Elechomes Humidifier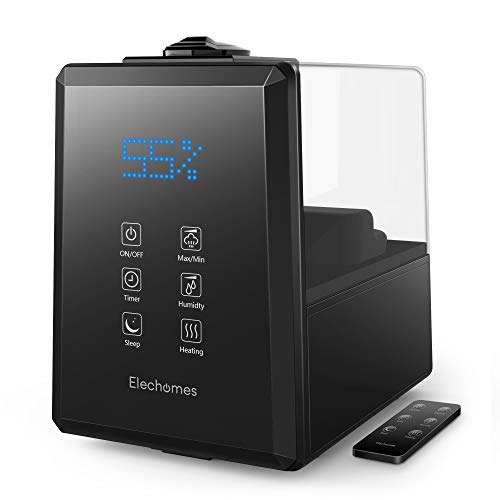 Elechomes UC5501 Ultrasonic Humidifier with 6L capacity is one of our top favorites when it comes to choosing the best humidifier with a built-in humidistat.
With its smart humidity sensor, it can quickly detect the relative humidity of a room accurately. This enables you to set the desired humidity levels you want in a room.
As soon as the humidity levels are achieved, the unit turns off automatically to start again when the humidity level drops again.
In addition to the smart built-in humidity sensing feature, a few additional features that come with this Elechomes UC5501 humidifier device are:
It comes with a remote to automate and control the humidity from a distance
Ultrasonic dual warm and cool mist option to get desired humidity in all seasons
Dual 360-degree rotatable nozzles, LED touch display, sleep mode, and built-in aromatherapy box
Can humidify a room of up to 750 sq ft with a tank that can last for up to 40 hours of continuous use
Although this humidifier with aromatherapy compartment allows you to enjoy the essence of your favorite essential oils just like a spa, care that you use the essential oils in the unit with utmost care.
Only use a built-in aromatherapy box or compartment to add the aroma oils, and do not ever add the oils directly into the water tank.
This can cause a leakage in the unit or can even clog or damage the unit.
2- VAVA Cool Mist Humidifier
VAVA Humidifier with humidistat comes in a capacious yet space-saving design that occupies very little space in your room.
Its most accurate humidity control sensor controls the humidity levels accurately so that you do not have to worry about excessive dampness or mold due to high humidity.
A few key features of this VAVA humidifier are:
5L tank that can last for up to 14 hours in one filling
Remote control included operating the device from the comfort of your bed, couch, or desk
Also comes with a LED Display, 3 Mist Levels, Sleep Mode, 360-degree dual nozzles, Timer, and much more
Above all, the unit works whisper-quiet in your room so that you and your family sleep all night comfortably without any disturbance.
3- Air Innovations Humidifier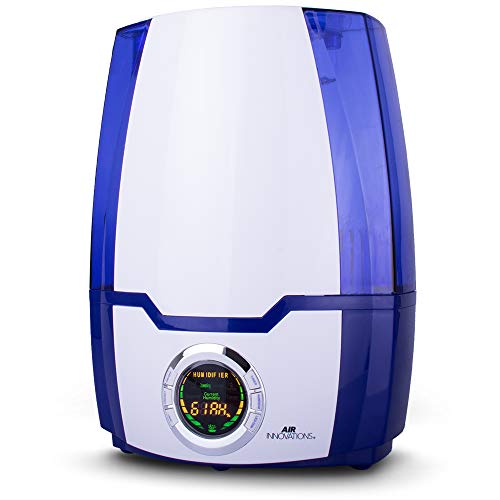 Air Innovations Digital Humidifier also comes with a humidity sensor to control and maintain desired humidity levels automatically.
Some of the best features that come along with this Air Innovations unit are:
Anti-Microbial Tank for pure, clean, and hygienic moisture
37 gal tank that runs for up to 70 hours on one refilling
Permanent ceramic filter that needs no replacement ever
4 mist settings, Auto shut off, whisper-quiet operation, and much more
4- LEVOIT Ultrasonic Humidifier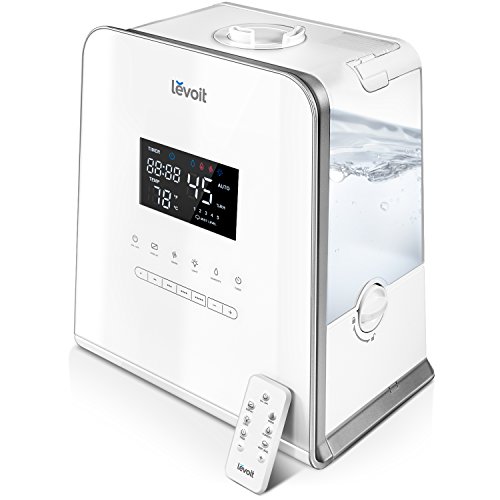 LEVOIT Humidifier automatically adjusts the Humidity of a room and comes with a large capacity 5.5L tank to humidify your room quietly.
Some of the best features that come with this LEVOIT ultrasonic humidifier are:
Adjustable dual 360° nozzles and a super high mist output to humidify the area fast
Cool and Warm Mist feature (with 5 settings) to enjoy the most desiring mist in all seasons
Aroma box to add essential oils that let you enjoy this humidifier as an aromatherapy diffuser
Touch Control Panel, Remote control, Night Light, cleaning brush, 1-year buyer assurance, and much more
5- Vornado Evaporative Humidifier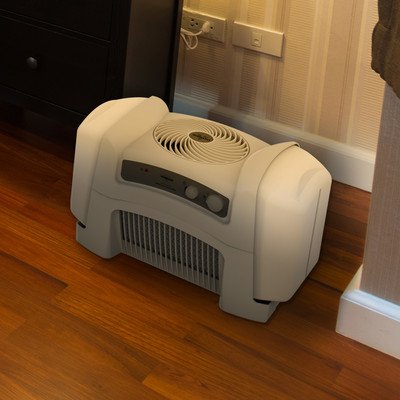 Vornado Evap40 evaporative humidifier is another excellent humidifier in our list of the best humidifier with humidistat features.
This Vornado cool mist humidifier is comparatively more significant than other humidifiers.
Some of the key features that come with this incredibly lightweight humidifier portable unit are:
Includes an airlock water tank that is easy to clean
Comes with 2 distinct filters and bacteriostatic water treatment to reduce the bacteria build-up in the tank
Works powerfully in arid conditions to automatic humidify your home of up to 1000 square feet
Works whisper quiet all through the night with its signature vortex circulation mechanism to maintain optimum humidity noiselessly.
Without a single thought, you can pick this device to freshen up your large area very well.
6- Honeywell Cool Moisture Humidifier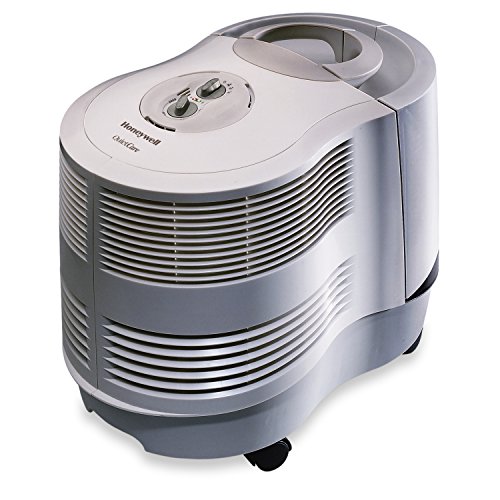 Honeywell Easy Fill Console Humidifier with humidistat is a highly efficient device that can easily humidify your multiple rooms and house evenly within a few minutes.
Key features that make the Honeywell Console Humidifier a great buy are:
Auto shut-off to control and humidify your home evenly
Evaporative Technology that blows the moisture off a wicking filter
It comes with a 3-gallon water tank that works for 24 hrs. on low humidity setting
Above all, this humidifying appliance comes with a reputed brand and a proper warranty, so you can never go wrong when choosing this for your home.
7- AIRCARE Console Humidifier Whole House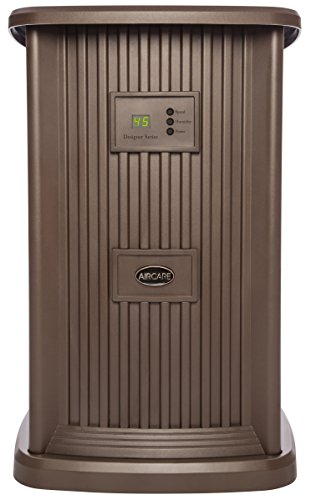 AirCare Pedestal Evaporative Humidifier comes with a built-in digital humidistat that works automatically to maintain the most comfortable and desired humidity levels with accuracy.
Some of the unique features that come with this AirCare humidifier model are:
9 fan speed settings that enable you to select the desiring performance level
Front fill design that allows you to pour the water easily – no carrying of the tank to fill the water
Natural tile insert to decorate indoor plant, vase, or figurine – perfect for decorating your home as per your room décor
In case you are looking for a beautiful whole-house humidifier with a humidistat feature, this is the best machine to go with.
---
Things To Check When Buying A Humidifier with Humidity Sensor
Now that you know the benefits of having a cool-mist humidifier with a humidistat, you need to have a better idea about the essential things you need to check when buying.
From a bird's eye view, some points may not look that vital but after purchase and put into use; you will come to know about the areas in which you are lagging like the tank size is not big or the area to be covered is not enough.
The following points can be noted to make the right decision in choosing the perfect humidifier as per your needs.
1- Sound
The continuous sound produced by humidifiers while working can irritate, especially when sleeping.
So, the first thing to be considered is to go for a noiseless humidifier like the Elechomes Ultrasonic Humidifier.
2- Timer
The running time of the humidifier also plays a decisive role. It varies from person to person as per their needs.
In general, the bigger the size of the tank, the longer the running time. So, choose the unit wisely as it also reduces the number of times to be refilled.
3- Area of Coverage
How far the effect of the humidifier can reach or cover is also to be kept in mind while choosing.
Select wisely the apt humidifier considering your coverage area.
4- Size of the Water Tank
Changing or refilling water daily is an arduous task. Water tank size should be chosen based on the area to be covered and the duration of the humidifier usage daily.
So, keep an eye on this feature to select the right one. Its measurement comes in liters and gallons.
The biggest capacity water tank in the industry is offered by AIRCARE Space Saver, giving you a generous storage facility.
5- Warranty and Additional Features
To secure the cost, you invest in the humidifier; you should buy one with a warranty so that it can be replaced in case of manufacturing or other defects that arise while being functional.
Additional features that can be looked into are auto cut-off and indicators.
The auto cut-off to turn off the humidifier before it gets overheated and LED light indicators to give alerts if it becomes empty
6- Choosing between Warm and Cool Mist Type Humidifier
Coming to the functionalities, cool mist-type humidifiers are responsible for keeping the environment cool, breezy, and moist. In contrast, warm mist type humidifiers are suitable for keeping the environment warm by boiling the water in the tank.
Warm mist humidifiers also keep the development and spread of bacteria in check.
However, this type of humidifier model is not suitable for places with kids because it may cause injury to the kids if the heating filament in the unit gets tilted accidentally.
Wrapping up
While buying the device online, compare the features and prices to choose the one most suited for your family, room size, and budget.
Particularly make sure you do not pick a small humidifier with a humidistat if you have a big space to humidify.
You may need a large-capacity device for an ample space like your master bedroom or living room.
And if you want to humidify your whole house, it's good to opt for a whole house furnace humidifier with humidistat.
By installing a device like this, we ensure that you will be going to notice the difference in your health and energy bills immediately.
Meen Smith is a nurse by profession who loves writing online, spending time with her family and caring for the elderly. She has already worked as an associate editor on various moms, babies, home appliances, kitchen, and healthy living blogs. In her spare time, she also enjoys drawing, reading/writing kindle eBooks and improving her skills a bit.