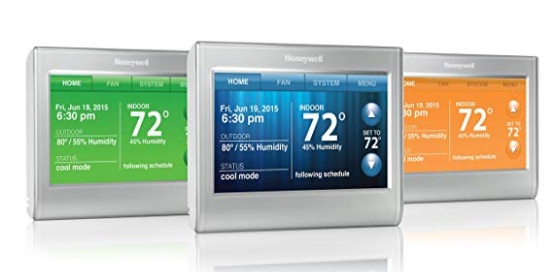 With technology advancing in the home, using smart thermostats to control indoor temperature is more popular than ever.
It's not surprising that home security systems, refrigerators with control buttons on the outside, and voice-control options for lighting are also becoming more popular.
But with the push for even greater control of the indoor environment, one exciting development is creating humidifier control.
Controlling the humidity used to be a simple side effect of the temperature.
But even intelligent thermostats have relatively little control over the amount of humidity within the indoor air.
You, therefore, need to get the latest programmable Wi-Fi thermostats that can do much more than control the temperature.
These are multi-function digital thermostats that come with a built-in humidistat feature.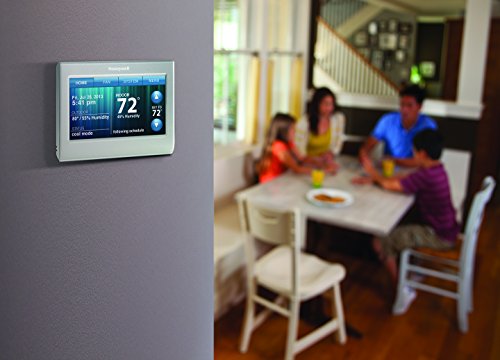 What is a Smart Thermostat?
Smart thermostats are the latest in home automation that allows you to remotely control the heating and cooling inside your home via smartphone, laptop, or other internet-connected devices.
Unlike traditional thermostats (like manual and programmable), these make the overall operation easier – offering you increased controlling power of indoor temperature so that you can easily save on your heavy energy bills.
The features that make these smart thermostats unique are WiFi connectivity and extra sensors like humidity control sensor.
Why Thermostat with Humidity Control?
The primary purpose of having more control of the humidity in your thermostats is mainly related to the relatively dry air that arrives in the winter.
Plus, for those who live in arid conditions, such as the desert, dry air indoors is a common occurrence.
Air that is too dry tends to cause or exacerbate the following:
Stuffy Nose, Sneezing, Allergies
Sleeping Issues, Dry Skin, Dry Eyes, and Static Shock
Adding a thermostat with a humidifier control feature works to increase the moisture in the air while keeping the desired temperature inside.
The humidistat thermostat combo device, therefore, would make sure that your smart home always remains a more comfortable place to live in.
3 Best WiFi Thermostat with Humidifier Control
Until recently, most humidifiers were small machines that only worked in a single room.
With advancing technology, it is now possible to add moisture into the air of the entire home, just like controlling the temperature.
And with that said, there are now several thermostats with humidity control devices on the market that can serve the entire home.
Three of the more popular thermostats with humidifier control include the following: Ecobee4, Honeywell, and Emerson Thermostats.
Let us check the detailed review for all these humidity controller models below…
1- Ecobee4 Smart Thermostat
ecobee4 Smart Thermostat comes with Built-In Alexa and room sensors that can help control the temperature and humidity throughout your home.
This smart wifi thermostat with humidity control device is easy to install on your own within just 30 minutes – thanks to its easy-to-follow installation guide that comes with the device.
Also, you can download the app (for iPhone, iPad, Apple Watch, or Android device) to get the step-by-step installation procedure for your help.
With the correct settings, an Ecobee4 thermostat with a humidity sensor can automatically adjust the environment when you're home or save on energy bills when you're not.
Believe it or not, it works intelligently to maintain the best comfortable environment that can help you save up to 23% annually on heating or cooling costs.
Other key features that make this Ecobee4 thermostat device a must-have for smart homes are:
Works with: Apple Homekit, Amazon Alexa, Samsung SmartThings, IFTTT, and more
Built-in Alexa to control your thermostat, adjust the temperature, play music, hear the news, set a timer, and much more
Compatibility- Gas, oil, electric, dual-fuel, Conventional (2H/2C), Heat Pump (4H/2C), Humidifier, Dehumidifier, Ventilator, HRV or ERV
If you are planning to buy this Ecobee4 thermostat gadget, make sure that you watch the videos below that will help you walk through the installation and set up steps.
Pros
Easy to follow installation/usage guide with an app
Works with multiple Home Assistance Systems for better control
Integrated with a Power Extender Kit for homes that do not have C-wire
Smart room sensor to easily detect hot and cold spots in your house to adjust accordingly
Cons
It can be a problem for some 2-story houses
Its price tag that's a bit on the higher side for those operating on tight budgets
2- Honeywell RTH9580WF Thermostat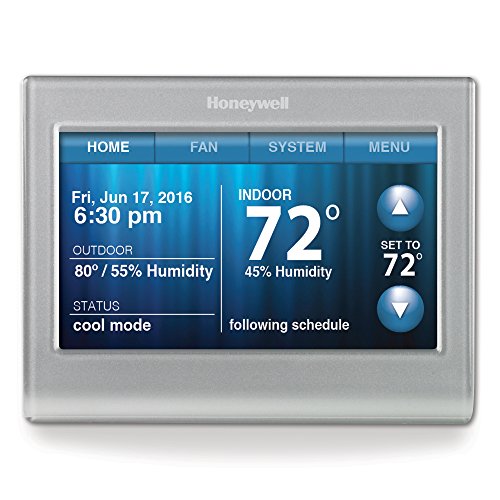 Honeywell RTH9580WF Thermostat is another smart device that works with Alexa and Wi-Fi to control the temperature and humidity in your home through voice.
This 7-day programmable device is simple to set up with intelligent programmable features.
With Honeywell's Total Connect Comfort Service, you can access your thermostat device remotely through a computer, tablet, or smartphone.
Since it can be controlled from anywhere with iOS and Android devices, it is equally suited for your home and business premises.
A few key features that we like in this Honeywell RTH9580WF Thermostat device are:
Customizable screen color to match your home décor
Huge savings on annual heating and cooling costs through programmable modes
Advanced locking features and password options for intelligent security and convenience
Above all, the device can also help you get a good utility rebate – just check the eligibility online with your zip or postal code.
Pros
Provides automated alerts on extreme temperature changes
Smart humidity display on a multi-color touchscreen option
Lockable touchscreen with a password and smart locking features
It comes with a programmable mode to save good annual heating and cooling charges
Cons
It can be installed and powered only with a c-wire system
It cannot work with a heat pump that has an electric baseboard of 120-240 volts.
3- Emerson Thermostat with Humidity Control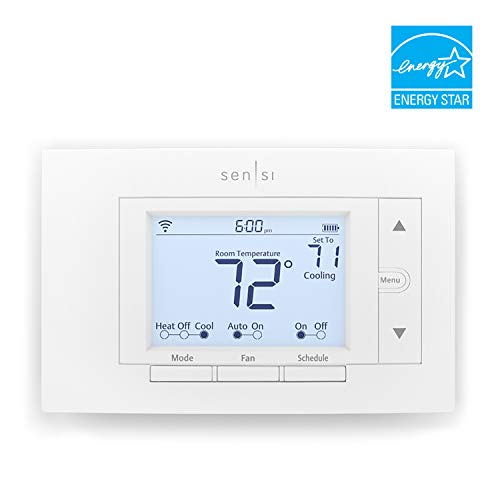 Emerson Sensi Wi-Fi Smart Thermostat is another excellent device for Smart Homes which Works intelligently with Alexa, Google Assistant, Apple HomeKit, and Wink's innovative home platforms.
This Energy Star Certified Sensi thermostat can quickly help you save on your HVAC energy costs with its excellent features like geofencing, 7-day flexible scheduling, remote access, and energy usage reports.
A few key features that we like in this unit are:
Can work with most of the HVAC equipment found in homes
Controls the comfort in your home remotely from your smartphone or tablet
Smart alerts to monitor and control extreme temperature and humidity levels in your home
Overall, this thermostat with humidity control is easy to install in about 30 minutes with its step-by-step instructions and video tutorials that can be found on its mobile app.
Pros
Easy to install and use within 30 minutes
Easy to program and schedule the settings for each day of the week differently
Works easily with the HVAC equipment that is found in most homes in the US
Smart alerts that help in detecting extreme temperature and humidity levels in your home
Cons
Wi-Fi connection issues found for some users
In addition to the above three, brands like Aprilaire, Nest, Bosch, and others are in the market for high-quality smart thermostats.
You can check them out if you do not want to pick from those mentioned above.
How Does Smart Thermostat Work?
Smart thermostats work smartly using the three essential components.
The first one that needs to be plugged in directly to your HVAC system
The second one is the thermostat control itself which gets remotely connected to the first part
The third one is the smart thermostat app which makes the complete system smarter. This app needs to be downloaded to your device like a smartphone or laptop
With these three basic components in a smart thermostat, you can easily adjust your indoor temperature from any location with a wireless or internet connection.
These smart thermostats also can record internal/external temperatures, the time for which your HVAC system is running, a time when your air filters need replacement, etc.
This information is usually monitored or tracked on an internet-connected device via the app.
How to Install Smart Thermostat Correctly?
Well, if you have done your research and have planned to buy a new smart Wi-Fi thermostat for upgrading your home, it's essential to know how it should be installed.
Before that, it's also crucial to know whether it works or not in your home.
Since a smart thermostat (that is Wi-Fi and Alexa compatible) works differently than the traditional ones, you must consult a reliable electrician to rework your wiring if required.
For further detailed instructions and a guide on installing your smart thermostat, you can refer to this article or check the video below…
How to Set the Humidity on Your Thermostat?
To maintain the most comfortable indoor environment, you should first adjust the temperature on the thermostat to the most comfortable level.
According to ENERGYSTAR.gov, this should be between 70 and 78 degrees Fahrenheit.
After setting up the temperature on your thermostat, it's time to set the humidity levels.
According to HGTV, the comfortable relative humidity levels in most of the houses in the US should be around 45-55%.
It's therefore essential that you take proper steps to maintain these ideal humidity levels even when your thermostat is kept "On" all the time.
Setting up the humidity on your humidifier thermostat may generally depend on the model and manufacturer.
Most modern-day thermostats come with a built-in humidity control feature (that can be controlled from a smartphone or remote computer).
This is due to the fact that setting appropriate humidity levels can easily save a good amount of money on your yearly utility bills.
If your device has touch-screen programming ability, you can quickly enter your exact humidity level preferences.
If the device you have comes with scroll buttons, you can scroll through the menu to reach the desired humidity level on a thermostat.
Can I Use These Thermostats for Multiple Zones?
Many of the homes in the USA are built with multiple zones, which means they have individual spaces that serve different purposes.
You may have various sections in your home (like a living room, bedroom, kitchen, or even a home office) where you want to keep the temperature and humidity different.
For instance, when you get up in the morning to make your first cup of coffee, you will probably want to be warm in your kitchen (not your bedroom).
Similarly, when you go to bed at night, you desire your bedroom to have a heated, cozy feel (and not your kitchen, living room, or office zone at home).
The downside is if you treat your complete apartment as a single heating or cooling zone, you can end up paying huge energy bills.
And for this reason, dividing your house into various multiple zones makes sense.
The good thing is you can now install and use one single thermostat device for multiple zones instead of installing multiple thermostats in the home for various zones.
This wifi thermostat with humidity control helps optimize the comfortable level of temperature and humidity (where and when you need it). It also can save drastically on your power bills by eliminating waste heating or cooling.
Is a smart WiFi thermostat worth it?

Smart WiFi thermostats are worth considering in your home since they come with remote access capabilities and offer smart functionalities that make them easy to operate. Additionally, they can save you good $$$ per year on heating and cooling, as EPA's Energy Star program confirms it.


How easy is it to change a thermostat?

Replacing a smart thermostat is pretty easy. It's like changing a light switch in your home. Turn the power off (of your central heating system). Unscrew the old thermostat, disconnect it and then replace it with a new one. However, if you are installing the smart thermostat for the first time, you may need to get it installed by a professional.


Will a smart thermostat work in my home?

"Smart thermostats" like those offered by Nest, Ecobee, Honeywell, etc., are usually compatible with "low voltage" 24v HVAC systems. Before installing them, make sure that your home HVAC system is compatible with it.



Do WiFi thermostats still work without a WiFi connection?

Yes, a thermostat with humidity control is designed in such a way that it continues to operate your heating and/or cooling system even when your Wi-Fi connection is down or switched off. Most of these devices reconnect to your Wi-Fi automatically once the network in your house gets restored.


To Conclude
Each of the above-mentioned best wifi thermostats with humidity control features can be controlled from a central location to provide the homeowner with a simple and natural way to increase the humidity levels inside the residence.
Since this does not come cheap, we recommend buying them if there is a requirement for it to install.
Consider the cost of these devices and weigh them against your budget, the benefits it provides, and your overall requirement.
Keep in mind that if the issue is limited, say perhaps to a single family member or a room that is often dry, then purchasing a small humidifier for the room may be a better answer.
However, if you do not care about the budget and want to give your family the best they deserve, you can simply go forward and consider adding one to your home to make it even smarter!
Meen Smith is a nurse by profession who loves writing online, spending time with her family and caring for the elderly. She has already worked as an associate editor on various moms, babies, home appliances, kitchen, and healthy living blogs. In her spare time, she also enjoys drawing, reading/writing kindle eBooks and improving her skills a bit.