Just like the balanced quantity of lubricant is essential for vehicles, sufficient humidity is also important for our body to work properly.
In case there is low humidity levels inside the room surroundings it is always better to use a humidifier which can help us in keeping good health.
Particularly if you are concerned about your kids health in the dry climatic conditions and are searching for a good humidifier design for your kids room, Crane adorable cool mist humidifiers are the best to turn to.
This is a good branded humidifier for your kids room which not only looks cool in their room but also provides them the best health care as per your requirement.
Crane adorable humidifiers are manufactured in a very Eco-friendly manner so as to provide the best comfort and environmental benefits even in the extreme cold or less humid conditions.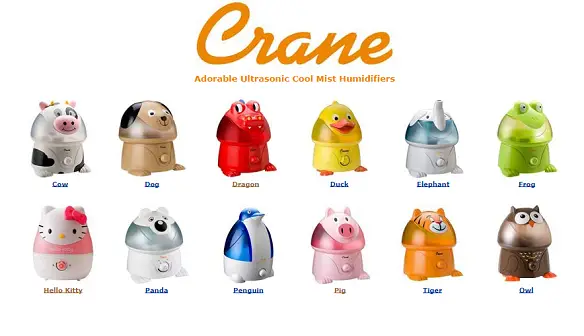 Crane Adorable 1 Gallon Cool Mist Humidifier Review
Crane Adorable 1 Gallon Cool Mist Humidifier has an ultrasonic mist operation which makes it a powerful technological device for modern day usage.
These adorable humidifiers for your kids room are the specially designed pediatrician-recommended humidifiers which are very helpful if you have children in your home.
This helps in clearing the nasal passage helping the children breathe freely while sleeping. This not only helps the people residing at home but also the furniture and indoor plants which get worn out due to the dry winter and cold atmospheric conditions.
Features and Working
The 1 gallon water tank can hold up enough water to moisturize the air in a room – of about 250 sq ft. The provided mist nozzle produces about  2.1 gallon moisture output to keep the surrounding humid. The tank is detachable and can be taken out to refill water in it.
Common tap water can be easily used with this device. However if you have lots of minerals present in your tap water it is good to use distilled water. You may also use filtered water or a recommended Crane demineralization filter.
Care has to be taken that you keep the unit on a flat elevated surface. Placing it on carpet, towel or sensitive furniture is not recommended.
It is operated electrically and it consumes very less energy/power (as compared to other brand models in a similar price range) which is easy for your pocket too.
Why These Are Best for Kids Room?
The manufacturers of the Crane Adorable Humidifiers offer these devices in cool stylish looks which attracts the children in your home. And for this reason these personal humidifiers are particularly popular among kids. These are available in various animal like cheerful designs to show that these are user friendly and attractive.
Designer Crane humidifiers such as Cow, Elephant, Dog, Owl, Duck, Elephant, Dragon, Gator, Frog, Hello Kitty etc. are easily available online at stores such as Amazon which can compliment your kids' room decor.
Furthermore, these awesome looking humidifiers comes with an auto-off functionality and thus are very safe for using in kids' room. It is manufactured in such a way that the humidifier's safety sensors switches it off once the water gets empty in the tank. So there is no question of danger or damage if the water dries up.
The uses and benefits can be analyzed easily through the consumer reviews and testimonials available at the site. Replacement parts such as filters are also easily available online which makes this device worth buying.
Caring and Cleaning your Crane Adorable Humidifier
It is important to clean your humidifier on a regular basis for its smooth running condition. It is recommended that you empty all the residual water daily after each usage.
Also it is recommended to disinfect the water basin as well as tank on a weekly basis. This can be done in following steps:
Make a solution of vinegar & fresh water and add it to tank
Allow it to sit for 30 minutes and then carefully rinse
If you do not want to try these DIY cleaning steps, Crane Descaler solution HS-1933 is available online for your convenience. You may use this for saving time.
After completing all the above cleaning steps make sure that you disinfect and dry the unit completely before you store it for next usage.
In all, these energy efficient, whisper quiet Crane adorable ultrasonic cool mist humidifier makes your kids room a better place to live for them.
So why not buy one now for your children and keep them healthier and happier. Check below for the cool adorable designs we have at Amazon store for you to buy. Believe me, Your kids will simply love them and thank you for this!