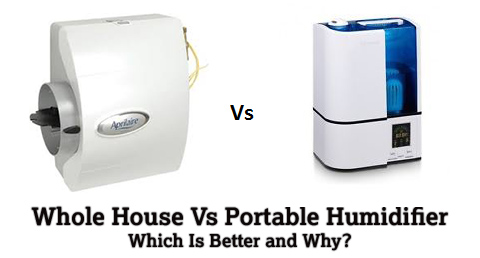 An air humidifier is an appliance that is used to increase the humidity level in a room or an entire building.
Depending on the need and budget, these can be purchased and installed to get cozy moisture indoors.
Well, if you are planning to buy a good humidifier for your home and are confused between choosing a whole house and a portable type, below we will help you know more about both of these devices in detail.
Read further to know the pros and cons of both these types. Hopefully, by the end of this article, you can decide which one should you choose and why…
Whole House Humidifier
Pros and Cons
Whole house humidifiers are generally the install-it-and-forget-it type of device.
These, once installed with the blower system of the furnace of your house, automatically take the water from there and work to provide you with the comfortable and desired humidity levels all through the house.
Pros:
✔ Whole house humidifiers are highly economical as the recurring charges and maintenance costs are very low compared to portable humidifiers.
✔ With the one-time setup of the humidity levels, just starting it can do the trick for you.
As it controls the optimum levels of humidity inside the home automatically, there is no need to adjust it again and again.
✔ It takes the water automatically from the water system of your house.
You need not remember to pour water into the device for each usage (which is a must in the portable type of ultrasonic cool mist humidifiers).
✔ Whole-house humidifier devices work noiselessly in your home without anyone knowing that you own one.
Cons:
✘ Unlike portable devices, these central humidification systems are large, and you need to arrange proper transportation services for bringing them home.
✘ Compared to portable devices, whole-house humidifiers also demand expert skills and professionals for installation.
There is no plug-and-play business in the case of these devices.
✘ The whole-house humidifier collects the water from the local supply and the dissolved minerals, which may get deposited in the form of minerals and salts.
This hardened mineral can pose a problem in smooth functioning and can also cause hygiene issues.
You, therefore, need to clean the humidifier with diluted white vinegar (once or twice a year).
Portable Humidifier
Pros and Cons
Portable humidifiers or ultrasonic cool mist humidifiers are the most preferred humidifiers for residential use.
In this category, you can have models starting from tabletop humidifiers to large floor-mounted humidifier units.
Pros:
✔ Portable humidifiers are available in different sizes and capabilities.
You can either get small desktop devices to keep the humidity of a room in check OR can have sturdy and more powerful humidifier devices that can help keep more than one room humid.
✔ Flexibility is the main advantage of a portable humidifier device. You can take them anywhere in your home you want (from one room to another).
✔ Some of them are so compact that you can carry them with you in your bag on a tour as well. These can be used in a hotel room or a car as well.
✔ These are very easy to install, operate and maintain. Just buy, plug in and enjoy the cool mist or air with these devices.
You can also easily clean them regularly to get the best healthy environment.
Cons:
✘ Some of the top-quality portable humidifiers come with an astounding price tag which is sometimes more than a whole-house humidifier.
✘ Unlike the whole house ones, it makes some noise while operating. If not maintained properly the noise can grow up high, which can keep you awake at night.
✘ Due to hygiene issues, not only do you have to maintain and clean them regularly, but you also need to fill the water daily depending on the area it is covering.
Few of these portable humidifiers are easy to fill and come with a detachable tank, but for a few of them, you must bring the water supply near to fill the tank up.
Conclusion: Which One Should You Choose?
Now when you are aware of the pros and cons of both of these humidifying devices, you may feel a bit relaxed while choosing one for your home.
✅ Investing in a whole-house humidifier can be a better option for you if you live in an area with arid climatic conditions.
As these work automatically to humidify your whole house, without you caring for them much, these can be highly convenient to get year-round humidity at your place.
✅ Investing in a portable cool mist ultrasonic humidifier makes sense when you want a good room humidifier only to cover a smaller area.
These are best for those who want to get the best room humidifier for seasonal allergies or particularly for their baby's room or nursery.
Although both of them work great to make you feel better at home, the money you spend on maintenance and their energy costs may vary significantly.
So keep a check on factors like your requirement, budget, space in your home, etc., before you buy one.
Meen Smith is a nurse by profession who loves writing online, spending time with her family and caring for the elderly. She has already worked as an associate editor on various moms, babies, home appliances, kitchen, and healthy living blogs. In her spare time, she also enjoys drawing, reading/writing kindle eBooks and improving her skills a bit.