A humidifier is an appliance which is used to increase the humidity level in a room or in an entire building depending on the need of the user.
The portable humidifiers are aimed to serve the purpose in a home for a particular room. These are generally compact in size which can be placed in any room as per your need and desire.
Whereas the whole house humidifiers or furnace humidifiers are generally used to do the same thing but for a whole building or space. These sorts of humidifiers are generally connected with the HVAC system of the house to circulate the humidity evenly amongst the rooms. To provide best comfort, hospitals, offices and  even industries often use these kind of devices for humidifying the whole area.
Now if you are planning to buy a good humidifier and are confused about which one will serve you the best, below we will help you out in knowing more about both of these humidifier devices. Read further to know the pros and cons of both models. This will help you decide about which one you should buy and why….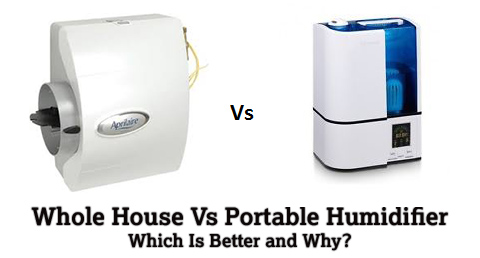 Pros and Cons of Whole House Humidifier
Whole house humidifiers are generally the install-it-and-forget-it type of device, which once installed with the blower system of the furnace of your house, automatically takes the water from there and works for providing you the comfortable and desired humidity levels all though the house.
In this kind of humidifier, you can get two categories. One which comes with the sprayer that injects the water into the air and another comes in the form of a foam cylinder. It blows in the water tray while the air blowing through and around it.
Pros:
Cons
If your central humidification system runs with poor condition, then there are probably increased chances of various health problems. Central humidification system results in various microbiological exposures that can badly effect on your health through mechanisms that are toxic, allergic. It can cause various diseases including legionnaires disease, humidifier fever, thermophilic actinomycetes and accumulation of mold which can be hazardous to people.
So you should not ignore all these risk factors of central humidification system if you are planning to buy and install a whole house humidifier for your home.
Pros and Cons of Portable Humidifier
Portable humidifiers or ultrasonic cool mist humidifiers are the most preferred humidifiers for the residential use. The best part is that you can use them anywhere in the house. And if needed, you can easily take it to other room as well. In this category, you can have models starting from the tabletop humidifiers to large floor mounted humidifier units.
Also there are freestanding humidifier machines on wheels which can be used in your home for easy transportation from one room to another. The portable humidifiers have their own water supply (a fitted tank that need to be filled) and you can plug them in the normal plug points to make them run easily.
Pros
Cons
Conclusion: Which One Should You Choose?
Now when you are aware about the pros and cons of both of these devices you may feel it easy to choose one for your home. However as per our recommendation cool mist humidifier can be a better option for you than any other humidifier.
Cool mist humidifiers not only make you feel cool due to the fan blowing air without making any noise but it also saves your money on energy costs. And if you live in warm weather then cool mist humidifier is best suitable choice for you. You can also use a cool mist humidifier in dry winters to make your house more comfortable.
Below you can find some of the best selling models that can be checked at the time of buying. These comes with affordable price and top features that will help you live comfortable.