TaoTronics is a well-known consumer electronics brand which people trust all over the globe.

They are in business since 2008 and particularly deals in small electronics & accessories.
They pride themselves for satisfying millions of customers in such a short period of time.
When it comes to ultrasonic humidifiers, TaoTronics is no way behind. They with their latest innovations, ideas and technology design the products that suits the life style of today's modern society.
Let's talk here about some of the best leading humidifier models designed by TaoTronics. These are bestselling in the market and we are sure, you will love adding one to your family.
7 Best TaoTronics Ultrasonic Humidifiers
Low humidity and high humidity level can cause many health problems so maintaining an ideal humidity level is important for healthier and comfortable environment.
TaoTronics with its best technology provides an ideal solution to get rid of all the low as well as high humidity problems.
1- TaoTronics Cool Mist Humidifier TT-AH001
TaoTronics TT-AH001 Home Humidifier is one of the best in class ultrasonic humidifier for your whole family.
Mist Level Control feature adds up the utility of the device as the mode can be set to Low, Medium and High according to the needs of the user. This simply means that the humidity mode can be pre-set manually which keeps your room at an ideal humidity level (of around 40-55% relative humidity).
The cartridge used in the Taotronics humidifier is microporous ceramic cartridge which filters micro-organisms, magnesium ions and calcium ions from water thereby offering a healthy and hygienically safe cool mist air. You can just fill up the device with clean tap water and enjoy the purified mist of air.
Furthermore the Taotronics humidifier filter is more user friendly as it can be cleaned easily and need not to be replaced for years. Thus it requires very less maintenance as compared to other devices.
Time setting is another great option you get with this TaoTronics cool mist humidifier. Through this feature a particular time period can be set for humidity without switching the device off. And as it will be automatically shut down after the set time interval you need not worry about getting-up, to switch off the device.
Few additional features of the device, which makes it one of the most favorite among consumers are:
Comes with a capacity of 1.1 gallon with a working time of 15 hours, a full tank will last for a complete day and night.
The top and bottom of the unit comes with two handles to replenish the water. Refilling of the tank is therefore user friendly and can be done by anyone.
Led Display which shows the present humidity level and other modes which are in operation currently.
LED nightlights which can also be put to off for a non-interrupted sound sleep. Certain people who likes a dim light while sleeping can go easy with the LED lights.
The Zero Noise feature is yet another advantage for the users making it perfect for night use as the sleep never get interrupted with the loud noise.
Equipped with a 360 degree nozzle so that it can be adjusted to a particular position wherever you want. This enables the mist to be ejected out in a desired direction.
Comes with high level protection of the humidifier will let you relax without worrying about the water level, as it will be automatically shut down when the water level decreases or reaches the lower limit.
Overall, the device is Eco-friendly and age friendly. It guarantees clean and fresh mist of air all the time which ideal for kids and older people too.
Can I Use Essential Oils or Perfumes with This Humidifier?
Since oils, chemical perfumes have corrosive property, it is not advised to add such liquids in the water. Later this may cause water leaks and damage to the humidifier.
In some cases medical condition can occur if the users are allergic towards the chemical perfumes. For knowing about whether you should add aroma oils in humidifier you can read the detailed article here.
If you want to use essential oils, there are specifically designed humidifier and diffuser combo models which suits your purpose. You can check more about those special models little below….
2- Taotronics Cool Mist Humidifier TT-AH002
TaoTronics cool mist humidifier TT-AH002 is another great humidifier which can be checked while buying one for your family.
Like the above model, TaoTronics humidifier TT-AH002 also comes with all the basic features, just with an additional dial knob control to operate the device easily. This classic control knob helps to adjust the amount of mist flow in a descent manner.
All the basic features of the device includes:
Works quietly and safely in a room
Fine ceramic filter to remove water impurity
Double 360 degree rotatable mist nozzle
Auto shut off feature for added safety
Operate continuously for about 10 hours with one refill
Ideal humidifier for homes and offices
Unlike TT-AH001 this humidifier does not features LED screen which is the only drawback of this device. But as this comes with a bit lower price than as compared to TT-AH001 model, it is worth adding in your checklist.
3- TaoTronics Cool Mist Ultrasonic Humidifier TT-AH004
Highlight of this TaoTronics Cool Mist Ultrasonic Humidifier device is its 5L large reservoir which helps you in getting 13 hours of continuous air moisture without the need of refilling.
With its 4 level adjustable mist control you can have the desired level of humidity in your room. The pre-set humidity will not be changed while operating and it keeps the room fresh always, especially when you are sleeping at night.
This 1.35 Gallon TaoTronics Humidifier comes with contemporary looking 6-buttons touch control and precise digital LED display which makes operating the device much easy and comfortable.
Note that, essential oils are not recommended to be used in these humidifiers as it can affect the functioning of the device.
Usually equipment of this genre comes with a disturbing noise making it unfriendly for night use. But this is not the case with this TaoTronics humidifier as it is known for its zero noise functionality. Therefore this Taotronics humidifier can be used in Kid's room too while they are sleeping.
4- TaoTronics Cool Mist Ultrasonic Air Humidifier TT-AH005
This 3.5L TaoTronics Humidifier releases a cool mist of water vapor into the dry air all day long so as to moisten the air without the need of frequent refills. It's a great relief in dry seasons.
This TaoTronics Humidifier model comes with an adjustable mist output control knob which enables you to set the mist output between 0 to 300 mL/h.
LED water refill indicator and low water protection are the features which are added to the device for complete peace of mind. Also it includes a water tank handle which makes the water-filling convenient for anyone.
Like other models, This TaoTronics Humidifier also works silently within your room making it an ideal device for homes or offices.
Do not forget to read the humidifier reviews and consumer ratings online at sites such as Amazon. You can check for the discounted price of this humidifier here before the prices raises to normal listing price.
Simply go for it! Your family will thank you for adding this amazing device to your family.
5- TaoTronics Warm & Cool Mist Ultrasonic Humidifier TT-AH007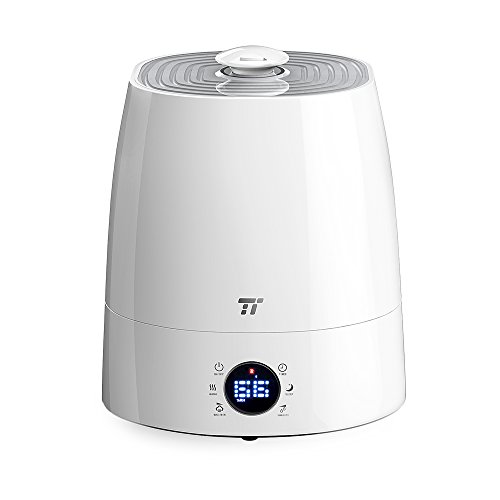 We all know that there are basically two types of humidifiers which are warm and cold mist humidifiers.
Where warm mist humidifier increases the level of distilled steam (that helps for easy breath) in cold winters, cool misting humidifiers adds the cool water vapor content inside the room, which aids the breathing process in hot summers. To check in detail about them read here.
Thanks to TaoTronics Ultrasonic Warm and Cool Mist Humidifier, you can now enjoy the benefits of both in this single device. Inside your home you will be able to have a comfortable, warm and cozy time of your own using this great humidifier machine.
Ideal for modern homes and offices, this stylish looking humidifier comes with an ultrasonic technology that allows for the silent operation virtually. It comes with an adjustable mist control and 6 user friendly LED icons to enjoy the desired level of humidity along with controlling the features like heating, timer, etc.
It is the innovative 5.5L water tank humidifier featuring the 360° rotatable nozzle where one can choose to target the nozzle in one direction.
The product is sure to work great and in order to enjoy quieter operation both in summers and winters, a great many people rely on this TaoTronics ultrasonic humidifier.
No doubt, as you can enjoy both warm as well cool mist with this humidifier device, you need to pay bit higher for this. So it is best to consider this device only when you need to enjoy the functionalities for warm as well as cold mist humidifiers.
TaoTronics TT-AH006 and TT-AH008 are two additional warm and cool mist devices which can be considered while buying. These are relatively new but looks super stylish.
6- TaoTronics Ultrasonic Aroma Humidifier with Diffuser 300 ml
This TaoTronics humidifier and essential oil diffuser features an awesome looking wood grain zen-style design that matches beautifully to your interiors. It also features colorful LED mood light that changes automatically and provides you the best benefits of light therapy for good night sleep.
In case you are worried about the dryness in atmosphere both at home and office, then your perfect solution to this is to get hold of an aroma diffuser cum humidifier. An appropriate air humidifier and mist diffuser like this one will help you to get rid of such situations.
By providing the therapeutic aromatherapy and pleasant fragrance environment you can easily relax your mind and body with this great machine. You can use your favorite fragrance to up lift the mood within no time.
Huge 300ml capacity of the device helps it to run for 8 hours continuously. You can set the mist mode and timer for 1h, 3h and 6h. Overall it functions effectively in both your home and office atmosphere and is completely safe to use.
7- TaoTronics Aromatherapy Diffuser with Ultrasonic Humidifier 100 ml
If you want to enjoy the benefits of humidifier along with aromatherapy diffuser, this is a great device by TaoTronics for you to have.
This TaoTronics portable ultrasonic diffuser humidifier (with 100ml capacity) makes your home and room smell wonderful and stay healthy.
Yet another beneficial factor of this humidifier with aroma diffuser is its portability. You can arrange it at your desired space and prevent all the skin problems in winter seasons. Some of the best features of this device includes:
Comes with color changing led lights and silent buttons which makes it much appealing and easy to use
Touch sensitive button, easy to use and very handy to control the humidifier without any tipping
Safe with automatic stop function when out of water or after 3 hours of working
Comes with ultra-quiet design for creating silent environment
You can get it for yourself or can gift it to your friend who is very passionate about aromatherapy.