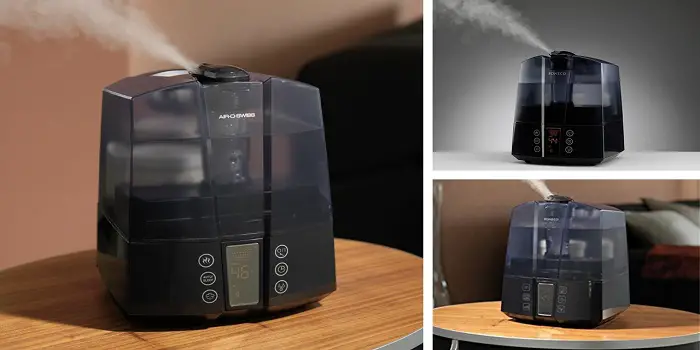 Whether an atmosphere is cool or hot in your living area, the absence of proper moisture in the room can result in discomfort feel, along with several health problems.
It is, therefore, essential to keep the moisture under control to assure good living conditions in the room and whole house.
Markets are today filled with warm as well as cool humidifiers. You can select the one as per the climate or temperature of the location you are living in.
At present ultrasonic dual mist humidifier combo units are also introduced in the market that comes with the benefits of both – cool and warm mist humidifiers – in one single unit.
This type of humidifier model can be a great option to look for as it can produce both cool and warm steam per the users' conditions and requirements.
Why Choose Warm and Cool Humidifier?
No matter whether you need a cool mist or warm steam – to neutralize the moisture level in your house – you can now get it with the help of a dual mist humidifier.
As a warm and cool mist humidifier comes with dual functionality, your family can enjoy different types of misting air in different seasons (warm mist in winters and cold mist in summers).
While a cool-mist mode can be used for soothing refreshed moisture, the warm-mist mode can kill all the airborne pathogens and enjoy extra heat in winters.
Also, to get rid of various health and skin problems in winter, you can choose to switch between warm and cool mist as per your needs, whenever you want.
These types of humidifier models are usually preferred by users who are living in areas where a remarkable change in weather is experienced.
These areas are generally very hot in summer and very cold in winter.
And due to this extreme change in season every year, they need to have a different humidifier for different seasons to make their room comfortable and cozy.
10 Best Ultrasonic Dual Mist Humidifier Reviews
Just in case you are planning to buy one for your room, we have updated our list of the best dual mist humidifier available on the market.
You can check them below along with detailed reviews to choose the best-suited one for your family.
1- Levoit LV600HH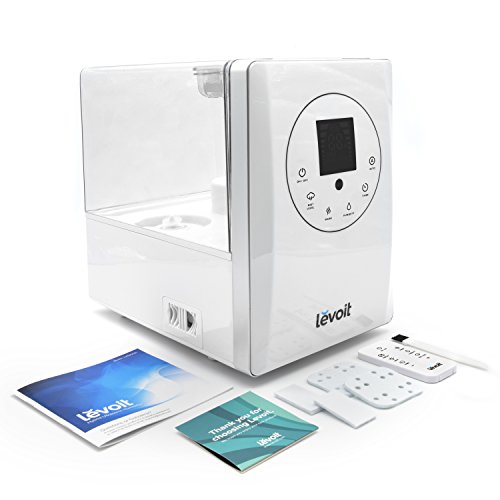 Levoit LV600HH Hybrid Ultrasonic Humidifier is the most efficient humidifier, which is good for medium to large-sized rooms.
With a 1.5 Gallon (6L) tank capacity, it is capable enough to work in your bedroom or living room for about 36 hours continuously.
As this Levoit LV600HH humidifier produces the best healing cool mist output for enhancing the room's humidity, it is good to have for the whole family in all seasons.
And as it is also capable of emitting warm mist, it can work as a great vaporizer for your family in chilling winters.
Levoit humidifier with remote control device operates quietly, and the moisture balance can be done automatically with an auto mode.
However, there is also a digital humidistat with a led display provided in the unit, which enables you to set the desired comfort level easily, according to your liking or comfort needs.
The unit is filter-free and comes with 2 extra aroma pads and absorption pads to enjoy the benefits of aromatherapy through essential oils.
Auto Shutoff feature and the Illuminated water window clearly indicate the need for refilling water.
Above all, Levoit warm and cool mist humidifier comes with a 1-year warranty and lifetime support from the manufacturer, making your purchase completely risk-free.
2- Elechomes Humidifier
Elechomes digital ultrasonic warm and cool mist humidifier is another bestselling device you can consider for your family this season.
Due to its outstanding features and functionalities, not only does it help save money, but also it presents a cozy environment for all.
Equipped with a large tank and 360-degree rotatable nozzles, this humidifier model can easily humidify your room continuously for up to 40 hours.
Elechomes whisper quiet humidifier also comes with a remote and hygrometer to enjoy customized humidity in an automated way.
LED digital screen with simple-to-operate touch-sensitive buttons is provided in the unit, which alerts you about the water level getting low.
The Elechomes humidifier unit turns off automatically when the desired humidity level is attained or the water tank empties (or removed).
The device also comes with a built-in filter that can easily remove all the limescale, calcium, magnesium ions, and germs present in hard water.
This way, it provides the purest mist of air which is most helpful for skin absorption and overall health.
3- HoMedics UHE-WM70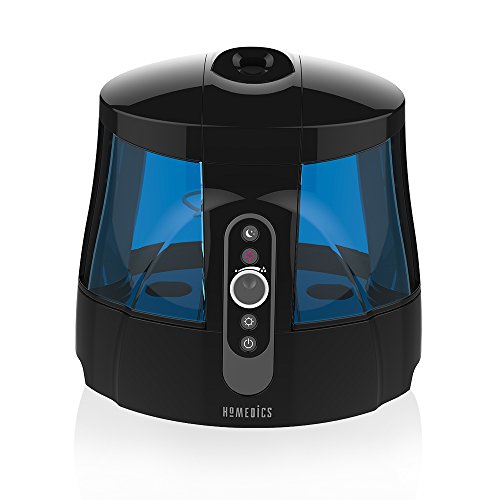 HoMedics UHE-WM70 TotalComfort Warm and Cool Mist Humidifier is another great all-season ultrasonic humidifier you can rely on for enjoying good health year-round.
The device is easy to use and comes with control buttons that help you adjust the intensity of the mist according to your comfort.
With unique Clean-tank technology, the device's tank is kept clean and smelling fresh without any hygiene issues.
Unlike other humidifier models, the HoMedics UHE-WM70 humidifier is equipped with dual water tanks (with a combined capacity of 1.7 gallons) that can work up to 80 hours of extended time to humidify your room continuously without any break.
As it comes with auto shut-off protection, the unit turns off when the tank water gets too low.
Also, it includes an on/off nightlight which is an added advantage for toddlers when they need to relax in a mild glow at night.
4- SPT SU-4010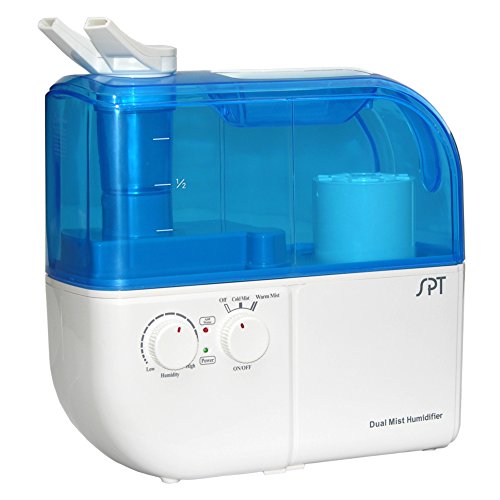 SPT SU-4010 Ultrasonic Dual-Mist Warm and cool mist Humidifier with Ion Exchange Filter has some outstanding features and is thus the right humidifier to replace the old one in your home or office.
This effectively relieves the symptoms like itchy skin, throat, lips, and dry nose to feel better and gives sound sleep comfortably.
It disperses cool and warm mist as there is a split nozzle for bi-directional mist for wider coverage of the area.
Like every humidifier has its functions and design to work, this humidifier vaporizer combo with easy-to-use control buttons to set as per your room temperature is a must to purchase and place in any corner of the home.
Suppose you desire to have a large capacity water tank. Luckily, a transparent blue water tank with more water capacity and easy-to– handle facility is perfect for setting the water temperature around 100 to 110 when the temperature is about 65 degrees.
Besides, the fan inside this SPT humidifier produces a humming sound which is impressive while spreading the mist in the air.
Initially, when using it, allow the water to move through the filter for 5 to 10 minutes and fill the reservoir after correctly positioning the water tank.
Turn off the red light and let the humidifier work.
5- Boneco /AOS 7147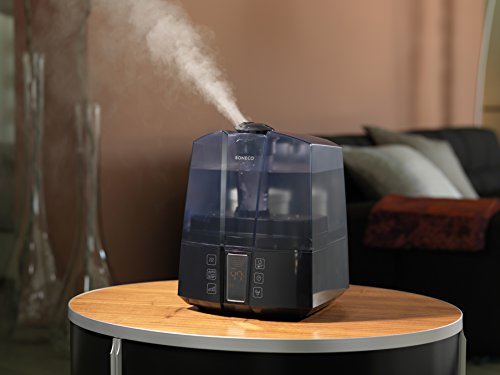 Air-O-Swiss 7147 Ultrasonic Humidifier with warm and cool mist feature uses high-frequency vibrations to generate a micro-fine mist of air which is quite soothing and relaxing.
Due to the availability of many dual mist humidifiers, choose the one with a pre-heating function like Boneco AOS 7147 Ultrasonic Humidifier and let the mist continues to spread all over the space at a temperature of 104 degrees Fahrenheit.
The intelligent temperature compensation technology monitors the temperature and automatically adjusts the output when the conditions transform.
You have a replaceable demineralization cartridge that ensures a water mist without mineral deposits and limescale. The added Hydro cell keeps the device clean and fresh for a long time.
The state-of-the-art design with a surface touch control is outstanding to set and let it work in a normal way.
If you wish to set it on a sleep mode, you can, as the unit presents a comfortable night humidity level for a sound sleep.
Finally, the timer allows pre-setting it for nearly 1 to 8 hours in the form of continuous operation.
The essential accessories included are the water treatment accessories that help in attaining a clean and cool mist, like dual mist humidifiers as well.
6- PureGuardian H1510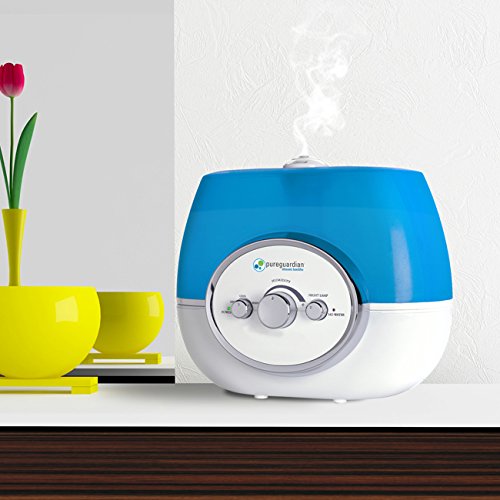 This PureGuardian H1510 100-Hour Warm or Cool Mist Ultrasonic Humidifier is helpful to those suffering from symptoms like allergies, flu, dry skin, and cold.
Being equipped with a feature of soothing cool as well as warm mist, this PureGuardian ultrasonic humidifier is the choice of every home to turn on in the large or small space area.
When you turn it on, you can immediately enjoy its functions as it begins to spread a fine and cool mist in the room, creating a comfortable environment all the time.
With user-friendly features, this PureGuardian Warm or Cool Mist Ultrasonic Humidifier adjusts the amount of mist that spreads in the room and increases the area of overage as well.
Its tank capacity is 1.5 gallons and provides up to 100 hours of run time without any problem, and is treated with silver clean protection to prevent mold formation on the tank surface.
There is a refill indicator that glows when there is a need to refill the tank and continue the use.
To your surprise, dual mist humidifiers with advanced features like this one are affordable and prevent mineral deposits and white dust as well.
PureGuardian H1510 100-Hour Warm or Cool Mist Ultrasonic Humidifier is one of the best to choose and feel comfortable.
7- TaoTronics TT-AH018
TaoTronics Ultrasonic Warm & Cool Mist Humidifier TT-AH018 is another great device you can check for.
The unit comes with a dual 360° nozzles design and a 6L water tank which is good to provide your purified mist of air to breathe in all seasons.
With a TaoTronics Warm & Cool Mist Humidifier device, you can seamlessly slide through 7 levels of warm/ cool vaporization based on your needs and comfort level.
The device also features: a comprehensive control panel, LED display, built-in low water safeguard feature, moisture sensor to maintain pre-set humidity, 1-year warranty, and much more.
All these features make it a risk-free buy for your home and family. You can just go for it without any second thought.
8- Crane EE-8064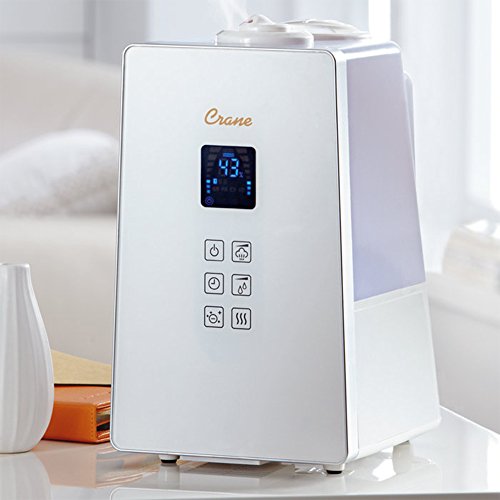 Crane USA Humidifiers are best to opt for when you want to get faster relief from all those unwanted seasonal coughs, colds, flu, and dry skin symptoms.
In fact, if you want to get the best all-year-round humidifier, Crane Cool and Warm Mist Humidifier is one of the best to buy.
This non-medicated alternative to over-the-counter cough medicines provides enhanced air moisture for not only easy breathing but also a good night's sleep without any sleeping problems.
Crane Ultrasonic Warm and Cool Mist Humidifier come with a removable 1.2-gallon tank which is easy to fill under most of the sinks in the bathroom.
The device also features a sensor-touch LCD, timer, and air ionizing functions to enjoy clean and fresh humid air in all seasons.
9- Bionaire BUL9500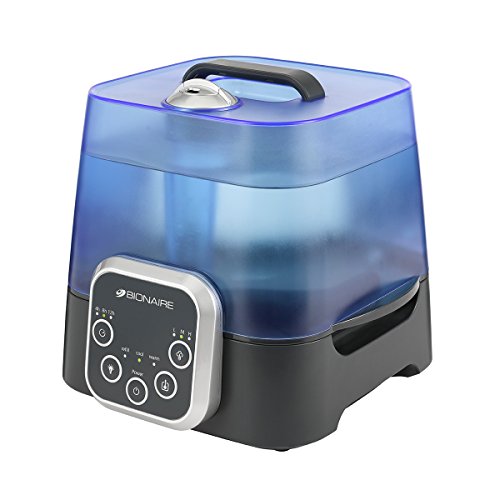 Bionaire Warm and Cool Mist Ultrasonic Humidifier come with a 2-gallon capacity tank which is ideal for medium to large size rooms.
The Bionaire Dual Mist Humidifier device features 3 humidity output settings, which can be set accordingly to get the room's ideal comfort level and moisture.
The unit works silently in the room to offer a fine visible mist of comforting air to help eliminate all your allergy problems like sinus irritation, cold viruses, and dry, chapped skin.
A demineralization cartridge comes included with this stylish Bionaire humidifier; as such, no filters are needed to operate the device.
10- COSTWAY Humidifier
Unlike other humidifier models, Costway warm and cool mist humidifier allows you to enjoy healing mist together with therapeutic aromatherapy.
As the device comes with an aromatherapy basket for aroma diffusing, you can enjoy the fragrance of your favorite essential oil all year round.
This Costway humidifier also features an LED digital screen and a sensitive touch button for easy operation, a remote controller to set the timer (from 1-12 hours), and 360 rotatable dual-layer nozzles to provide uniform mist coverage, and an auto shut-off feature for additional safety.
Additionally, the 6L tank capacity and built-in filter provided in the unit work to offer fresh and pure mist of air for maximum skin absorption and better breath.
Ideal most for elders and children at home, you can also use it for office purposes.
---
Pros and Cons of Dual Mist Humidifier
Well, if you are convinced about using a warm and cool mist humidifier in your home/room, you should quickly check about its advantages along with very few disadvantages.
The Pros:
✓ Comes with all the essential features:
The cool and warm misting humidifier comes with all the essential features (generally more than single mist units) such as auto shut off, low water indicator, humidistat, etc.
Also, it features smart modes (like auto mode and sleep mode), which is usually convenient for people who want to switch "On" their humidifier and forget.
✓ More versatile and good for all seasons:
With its unique versatile features and ability to produce either warm or cool-mist, this humidifier can make the temperature ideal both in cool and hot climate conditions.
You can, therefore, use it in all seasons (summer, winter, spring, and fall) to keep all your allergies at bay.
✓ Effective in providing better healing benefits:
As you can switch between the two modes (as per the atmosphere and your body needs), it assures that you ease all your breathing and skin problems very fast.
This type of humidifier is also good for the baby as it provides better sleep at night with its excellent features and options to select cool or warm mist.
The Cons:
The major drawback I can find with these types of humidifiers is it's a bit expensive.
As it comes with a range of versatile features and sophisticated technology, the money you pay upfront when buying – will be more.
But in the long run, as you can enjoy dual benefits, we don't think it's an expensive buy.
If your family needs to buy another unit due to a change in season, investing in a dual mist rather makes sense and seems to be a much more profitable deal.
Using aromatic essential oil in these humidifiers is also not recommended in these models.
If however, you wish to use them, do check with your manufacturer and specific model if it allows you to do so.
Note: As you will be using your dual mist humidifier unit more – in all seasons (as compared to single mist units), the maintenance it needs will be high.
Do not forget to clean your unit often, mainly when you use it regularly.
---
Should You Put Hot or Cold Water in Your Humidifier?
The air quality inside your home can be significantly affected by the temperature.
This means that the temperature of the water you put into the humidifier may have a considerable effect on the quality of the indoor air.
While most people tend to put cold water in their humidifiers on hot days and warm water in on cold days, the truth is that you may be best served by always putting in cold water.
Let's see below – why?
It may seem counter-intuitive to some who only see the mist rising from a humidifier as hot.
But the truth is that cold water is recommended for most humidifiers for several good reasons.
It not only helps in dry conditions but also provides health advantages to those who want better indoor air quality.
What follows are just a few of the reasons why cold water should be the choice.
Fewer Microorganisms:
The differences between hot and cold water are more than just temperature.
Hot water contains more substances compared to cold water, such as the following;
The bacteria and mold are present because they have the minerals to cling on to and grow.
In cold water, the lack of minerals makes it far more difficult for mold and bacteria to gain a foothold.
By putting cold water in your humidifier, you can keep it from becoming a harmful source of harmful microorganisms.
Plus, that prevents specific issues from developing in your humidifier, which may shorten its life.
It's Safer:
Accidents can happen to anyone, but with kids, the danger of hot water becomes more pronounced.
This is because children may not understand hot steam's effects until exposed.
Plus, if the humidifier breaks and spills hot water, that may result in scalding or even a serious burn.
Given their curiosity and lack of experience, having hot water inside a humidifier represents an unnecessary risk.
Better to be safe and use cold water, which will not harm them.
Easier Breathing:
The FDA has determined that a cool-mist from a humidifier is actually better for breathing compared to a warmer mist.
This is because the cold water shrinks the nasal passages allowing for easier breathing. A warm mist swells nasal passages, making breathing more difficult.
Besides the above, there are other advantages as well to using cold water, but the bottom line is that it simply is better overall compared to hot water.
The advantages of using cold water are that you can run your humidifier safe, knowing it will last longer, not spread bacteria or mold, and not present a danger to the children or anyone else in your home.
Choosing to put cold water in your humidifier offers several advantages no matter the season.
In addition to regular cleaning, you should ensure that the cold water you put in is pure or close to pure to prevent the buildup of harmful microorganisms in the humidifier itself.
Wrapping Up: Which is the best DUAL mist humidifier for the money?
Hopefully, our list of best ultrasonic dual mist humidifiers above has helped you decide the one that is ideally suited for your family.
Just in case you want to research more, there are a few other models (like Dual Mist Vicks humidifier, Heaven Fresh humidifier, NUK humidifier, SereneLife humidifier, Luma Comfort HC12W vase humidifier, etc.) that can be checked.
But as our top endorsement – we recommend buying Levoit Humidifier when it comes to choosing among the best warm and cool mist humidifiers.
As per the consumer reviews and ratings found online, this humidifier model/brand scores very high as it is relatively easy to use and clean without using any special accessories.
This comes with an ability to produce either cool or warm mist (in a self-controlled way) without your need to worry about the humidity and temperature in your room.
Above all, it does its job pretty well (for what it is meant for) very quietly without anyone knowing about it.
We are sure you will love owning this dual mist combo humidifier device and will not regret buying it for your family or friends this season.
Meen Smith is a nurse by profession who loves writing online, spending time with her family and caring for the elderly. She has already worked as an associate editor on various moms, babies, home appliances, kitchen, and healthy living blogs. In her spare time, she also enjoys drawing, reading/writing kindle eBooks and improving her skills a bit.