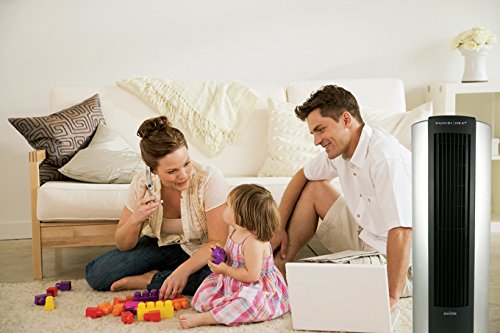 Air pollution is not just confined to the outdoors. Indoor air quality is sometimes found to be even worse than compared to outdoor air quality.
As the air inside our home contains varied types of pollutants. And intake of such polluted air results in breathing problems such as allergies and asthma.
Installing a good air purifier is, therefore, an indispensable component of every house!
However, if you live in areas with low humidity, pure filtered air is not the only thing that can help. You also need proper comforting moisture to keep all the allergies at bay.
Luckily, we now have an air purifier and humidifier combo unit available that can do the best job for you.
This will prevent you from all the hassles of purchasing the two separate devices to make your indoors comfortable in the dry season.
Why Air Purifier with Humidifier?
Investing in an intelligent air washer and humidifier combo system is a great idea as it can eliminate the inconvenience of managing two separate units at your home.
Especially for your family members who suffer from any kind of breathing problems or allergies; it is essential to provide them a fresh, moist, pure, and virus-free air to breathe.
Rather than choosing the 2 individual devices (air purifier and a room humidifier), you can have a combo unit for your home that can clean and humidify the air at the same time.
By removing all the potential triggers and allergens (such as dust mites, smoke, pollen, volatile organic compounds or VOCs, odor, etc.), this smart device not only helps alleviate the symptoms but also avoids further respiratory problems.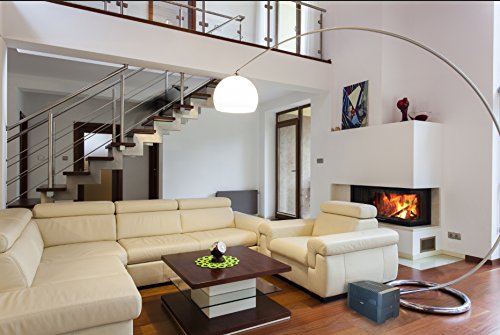 5 Best Air Purifier and Humidifier Combos
Planning to buy a good combo system for making your indoors clean and fresh to breathe, but confused about which one to go for?
Below you can find the quick comparison chart, detailed reviews, and usage tips for the 5 best combo models.
Hopefully, we can help you choose the one that is right for your family!
1- Sharp KC-850U Plasmacluster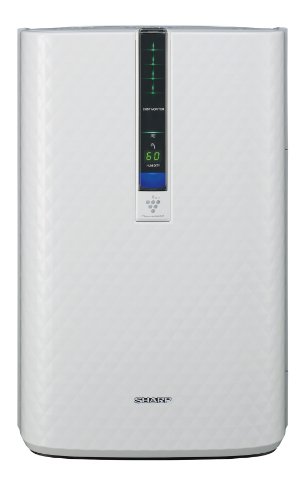 Offered by a trusted brand, "Sharp," this is one of the best air purifier humidifier combo devices for home use.
The Sharp KC-850U Plasma cluster Air Purifier with Humidifying Function works with Plasma cluster technology to quietly purify and humidify the room area of up to 254 sq. feet.
You can choose between "Clean air" or "Clean air and humidity" functions that can be set according to your requirements.
The true HEPA filtration system very efficiently restores the balance of positively and negatively charged ions and humidity in the room to enjoy fresh, cleaner air.
The humidification function to add humidity is essential for improving the quality of the air, especially during cold weather.
This helps you protect yourself from various kinds of allergies, colds,s and flu problems.
Also, the good thing is you can use this device like a smoke humidifier for smokers to eliminate the harmful chemicals from cigarette or cigar smoke.
It also comes with an ultra-quiet fan speed that can be adjusted as required. The product is also AHAM Certified and is affiliated as an energy star compliant which ensures its overall best quality.
2- Venta LW15 Airwasher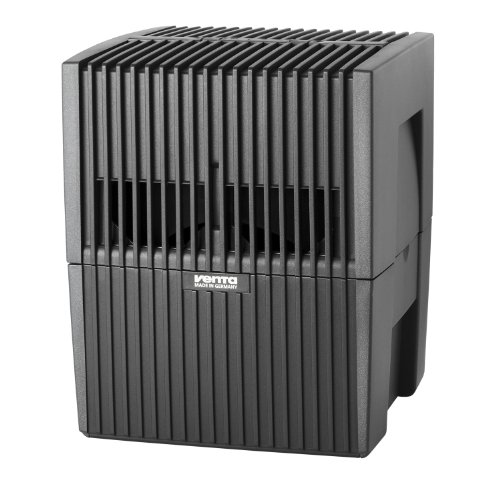 The Venta Air washer 2-in-1 Humidifier & Air Purifier comes in grey color and has excellent utilities attached to it.
It humidifies dry room air, and at the same time, it purifies the air by removing the pollen, dust, harmful allergens, and pet dander.
There are no filters or replacement items that are needed to operate this particular unit.
Water acts as a filter in this particular gadget. There is also the facility of auto shut-off, and also there is a water refill indicator light. This particular gadget has a capacity of 1.4 gallons.
The Venta LW15 Air washer 2-in-1 Humidifier & Air Purifier comes with a 10 years warranty. It is entirely compact, very efficient in performance, and powerful for indoor air spaces ranging up to 200 square feet.
So, if you are really looking forward to having a very powerful humidifier and air purifier for your home or office, you can opt for this particular product.
It comes from a trusted brand and has a very long life. This can be purchased at a beautiful discounted price at Amazon.
3- Dreval D-950 HEPA
This best air purifier humidifier combo comes from the trusted brand name Dreval.
This gadget has a high-efficiency HEPA filter which eliminates 99.97% of the airborne germs which are larger than 0.01 micron.
Dreval D-950 Air Purifier Cleaner Humidifier Ionizer HEPA 0.01 micron UV Light 7 Stages with Odor Sensor also have a UV Ultraviolet Sterilizer Light, which uses 245 nm ultraviolet light to destroy a variety of bacteria.
There is also a negative anion release which creates an ionized field in order to help efficiently to remove the harmful airborne pollutants.
This particular humidifier also increases the air humidity, and it is always recommended to use distilled or purified water in the humidifier.
This gadget is a high-efficiency HEPA, acts as a cold catalyst, has activated carbon filters, and has a remote control as well.
The most attractive feature of this particular gadget is that it has UV light 7 stages with an odor sensor, making it a very worthy purchase for buyers.
The performance of the gadget is also very good and consistent. Thus, this is a highly recommended product that has got multiple uses as an air purifier, humidifier and ionizer as well.
4- Boneco W200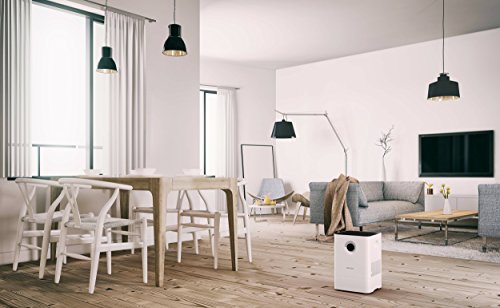 Boneco air washer W200 is a beautifully designed device that is simple to use and maintain. As the parts of the unit are dishwasher and washing machine safe, it's easy to clean as well.
Ideal for humidifying and purifying the room (of up to 540 square feet), this machine comes with an auto shut-off feature which makes the device go off when water gets emptied.
The Boneco W200 2-in-1 device also allows you to add scented oils to enjoy the fragrance in the room the whole day.
Furthermore, it also comes with two performance levels (i.e., power & sleep) which can be selected by using a turn switch.
Users who have already used the device are impressed with its brilliant performance, and we are sure you will love adding this to your home and family.
Boneco H680 hybrid humidifier is the latest addition to this niche and can be checked if you want to have an all-rounder high, a capacity device for very large rooms and offices.
5- Oreck WK15500B
Oreck WK15500B Air Refresh is a 2-in-1 device that can be used for purifying and humidifying the air at the same time.
Good for small rooms (like bedrooms, dens, or nurseries), the unique feature of the device is its 2-stage filtration system (HEPA and charcoal filters).
Where the HEPA media filter enables the machine to capture 99 percent of dust and allergens present in the room, its charcoal filter helps in removing all types of bad smells.
Above all, the ultrasonic humidifying feature of Oreck WK15500B helps make the environment feel refreshed by adding a cool mist of moisture silently without any noise.
If you want, you can turn off the humidifier to only run the air purifier as and when needed.
Few Other Models and Recommendations
Though the above 5 models are best to look at, if you want to do further research, you can check brands such as Envion, New Comfort, and a few others that manufacture these sorts of combos.
As our top recommendation, you may consider picking Sharp KC-860U Plasma cluster as it works great in all conditions.
Making the right balance between air purification and humidification, it can work wonders for your family.
We bet you will never regret buying this smartest and most valuable machine for your healthy indoors!
If you have further questions or doubts regarding these devices, you can check below some common questions (and answers) asked by the users.
---
Considerations When Buying
Now, if you have decided to buy an air purifier humidifier combo unit to improve indoor air quality, it is important to check out a few important things.
Checking these factors can help you buy the best machine your family deserves:
1- Your Need:
As air purifier and humidifier works differently to address two very different problems, you should carefully check whether you need a combination of both these functions or just one.
If your main purpose is to remove harmful bacteria and viruses from the air, simply buy a good air purifier.
However, if you want to add extra humidity to the air, buy a good humidifier.
In case you want both – go for a combo.
2- Your Budget:
Buying a good air purifier for your home can cost you anywhere from $75 to $1000. And if you also need to buy a humidifier, you may need to invest additional.
Therefore, taking care of your pocket and the money you want to invest is important. If you do not want to invest heavily in both these devices, choosing a good combo unit is a solution.
Again as these combo units come with varied features and at various price tags, you need to be careful about the features you are getting for the price you are paying.
3- Space in Your Room:
This can be a major factor to look at, especially if you live in a small apartment.
We recommend buying a unit that is best capable of purifying and humidifying the square foot area you have.
Checking your room/home size and buying a machine based on that can also help save you good money, as the larger unit you purchase, the more you need to pay for it.
4- Maintenance Required:
Be ensured that buying the two devices separately means that you need to do proper maintenance work for both.
But if you buy one single unit (with both the features), the maintenance task you need to perform will also get halved.
Also, when checking the best combo unit online, you should check the maintenance and care it needs.
While models like Dreval D-950 can be high on maintenance (due to filters that need to be cleaned/replaced), models like Venta LW15 may require very little of your time as these are filter-less.
5- Average Power Consumption:
Now, this can be of great concern, especially for people who want their unit to work for the whole day and whole night.
If you want your appliance to be energy efficient, always pick the one that comes labeled with ENERGY STAR Certification, as these consume a lesser amount of energy (as compared to the standard consumption).
Instead of checking the energy consumption rating for each model, you can simply choose an ENERGY STAR Certified Appliance to ensure you are buying an excellent, efficient device that will consume less power in the long run.
# Air Purifier and Humidifier FAQs #
Can I Use Air Purifier And Humidifier In the Same Room?

It is always a good idea to use both these devices simultaneously in the same room – and there is absolutely no harm in it.

In fact, using both these devices will help you live healthily and hygienically without worrying about all the health issues you face due to poor air quality.


How Long Does It Take an Air Purifier to Clean A Room?

On average, most air purifiers would take anywhere from 30 minutes to 2 hours to completely purify the air in your room. The taken to cover the entire room will, however, be highly dependent on the room size, the fan speed on the device, the ability of the device to cover the specific area, etc.


Will an Air Purifier with Humidifier Make My Home Smell Better?

Yes, an air purifier and humidifier device will remove the odor to help get rid of the musty smell in your room. You will most likely experience freshness in your room due to improved air quality. Do remember that the device will, however, not make your room smell aromatic or fragranced.


Does Humidifier and Air Purifier Combination System Really Work?

In short, Yes! Due to the fact that these combo models come at an extra price, the features and technology you will be getting will be just awesome.

Most of these modern-day hi-tech air purifier (or air washer) devices come with a built-in humidifying feature that allows you to get the purest form of the air for breathing – that is also enriched with optimum humidity required to stay healthy and beautiful.


---
Air Purifier or Air Humidifier for Smokers?
Inhaling the second-hand smoke of cigarettes or cigars can be frustrating.
Also, the smell it leaves behind after one of your family members (or visitors) has smoked inside the house can be the worst thing to deal with.
Although installing a good air purifier can help you deal with the harmful chemicals and allergens it spreads, you also need to have a good humidifier for smokers.
Why?
Simply due to the fact that harmful chemicals, pollutants, and allergens caused due to tobacco smoking can thrive for long in dry air.
Especially in winters, when the air inside is dry, these allergens keep thriving and can cause fatal conditions such as cancer, asthma, emphysema, cough, and croup.
Installing a high-quality humidifier inside a smoker's room can easily help in making the room more humid and thereby destroying these allergens fast.
Moreover, a good humidifier can help in removing the odor caused due to tobacco smoke in smokers or smoking rooms.
Air humidifier does not completely remove the actual smoke from the room or house. It only helps in eliminating the smoke particles in the air that have been left behind by smoking.
Due to the above reason, if you smoke or have a smoker member in your family, you should get an air purifier and humidifier combo device (like Sharp KC 850U) to deal with the situation in the best possible way.
---
Should I Choose A Combo OR Two Separate Units?
Well, as said above, this will depend on the type of performance you want to get with your machine.
While the concept of purifying and humidifying the air simultaneously can be appealing, it is worth noting that if you expect this device to work excellently – just like a separate air purifier and a humidifier – you may then go wrong.
However, if you are in need of a good 2-in-1 machine that can take the best care of your family's health in all seasons without spending much of your time, energy, and money, this is a device to go with.
If you feel that you do not need one of these features (air purifier or humidifier), you should then get a solo HEPA air purifier OR a humidifier device.
✓ Remember, buying the two individual machines may cost you more initially.
Also, you may need to invest heavily in the long run as the time and price you pay for maintenance (of running them separately) can be significantly higher.
---
Pros and Cons of Air Purifier-Humidifier Combo Units
Before you go on to pick the best air purifier and humidifier all-in-one device, let's check some of the advantages and disadvantages that come with these.
✅ Pros:
Convenient to use and manage
Help address more health issues for the complete family
Cost-effective (as compared to buying 2 different units)
❎ Cons:
Few models can be high in maintenance
Comes at an extra price and can be expensive
Not as effective (as compared to individual devices)
---
What Is The Difference Between Air Purifier and Air Washer?
✓ An "air purifier" is a device that helps in removing the pollutants present in the air by filtering it through a specialized mechanical or electrical filter (like HEPA, carbon, ionizer, or UV filters).
As these are particularly designed for purifying the air, it does their job perfectly well.
✓ On the other hand, an "air washer" is an air purifying device that comes with a built-in humidifier to freshen up and humidify the air as well.
Or we can say that these are the humidifier devices that are also marketed as air purifiers.
These devices generally do not include a specialized filter, but it purifies the air using water as a natural filter.
Additionally, as the humidifying feature is just an added bonus feature these do not come with a large water tank capacity (as compared to actual humidifiers).
Overall, seasonal changes along with increasing pollution are taking a toll on the lives of everyone in our family.
While this cannot be avoided completely, we can take proper measures to address most of these health issues and discomfort caused due to low-quality air around us.
If you are looking to purchase a great air purifier and humidifier combination, opt for the one among the above-mentioned devices.
These already come from reputed brands with proper warranty and has the reputation of running efficiently for a long time without any risk.
Meen Smith is a nurse by profession who loves writing online, spending time with her family and caring for the elderly. She has already worked as an associate editor on various moms, babies, home appliances, kitchen, and healthy living blogs. In her spare time, she also enjoys drawing, reading/writing kindle eBooks and improving her skills a bit.