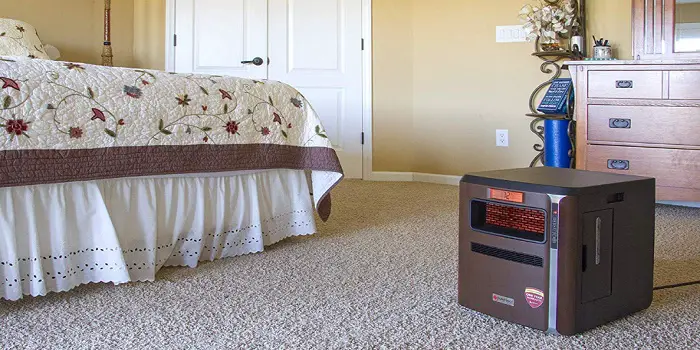 Humidifier and heater are the most desiring home appliances in freezing winters. These are essentially required in a room to make the surrounding air moist and comfortably warm.
However, when we keep our heaters ON most of the time during cold winters, it leads to dry air problems.
This causes so many health and skin issues which becomes hard to tackle. Using a good cool mist humidifier unit becomes therefore important.
Although adding both of these units is essential for overall health, most of us ignore adding one or the other.
This is sometimes due to the cost and at other times due to a lack of extra space in our rooms to accommodate both the devices.
Thanks to humidifier and heater combo device, which can solve all your problems.
What Is A Heater Humidifier Combo?
And Why You Really Need One?
Here we are discussing the less known devices which are known as Heater Humidifier Combo or Heater with Humidifier units.
The idea to develop these devices is to satisfy the demand of users who are in need of a single device that can function best in both ways: Heater as well as Humidifier.
With this single appliance in your room, you can now enjoy the benefits of the heater as well as a humidifier without the need to worry about cost or space in your room.
With this type of device in your home, you can actually keep the humidifier and heater ON at the same time to enjoy maximum comfort in cold winter months.
As this heater humidifier combo unit cost less than two individual units (heater and a humidifier), it is quite easy for your pocket.
And as it requires less space to accommodate as compared to two individual units (a room heater and a humidifier) you need not worry about the space you have in your small room.
3 Best Humidifier with Heater Combo Units
A heater with a Humidifier combo unit is a great option for you if you are planning to buy a new room heater and a humidifier, for this freezing winter season.
However, if you are confused about which model to buy, let's check and compare some of the best options and reviews below.
Hopefully, you will find these ideas useful and can choose one among these for your family.
1- Dr. Infrared Heater with Humidifier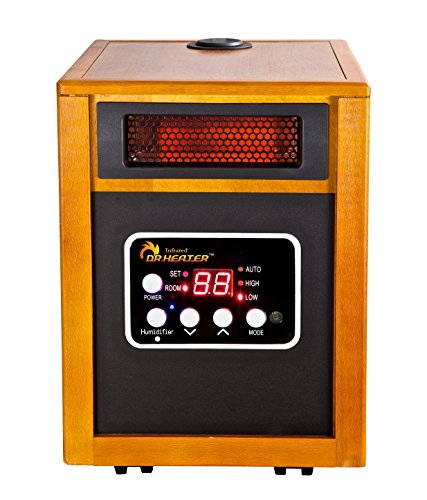 Newly designed and engineered heater from the USA, Dr. Infrared heater with a humidifier must be a necessary item on your checklist.
This heater with humidifier is designed to heat up a large room with its dual heating system.
At the same time, its built-in ultrasonic humidifier works great for maintaining the best humidity levels of the room.
The 1500-Watt heater of this Dr. Infrared heater with humidifier device comes with both high and low-temperature settings which can range from 50 to 85 degrees, making it an affordable way to control your interior environment.
This portable heater humidifier device is an amalgamation of PTC and a quartz infrared tube.
Also, it comprises overheat protection (with 12 hours of automatic shut-off timer) and tip-over protection for additional safety.
Few additional features include:
Lighter in weight and can be carried easily from one place to another
Compare to other heaters, this heater humidifier combo unit can heat a larger room by 60% more
Comes with a high-velocity low noise blower and dual heating system, which helps in keeping you warm during the jittery cold temperature
Above all the devices manufactured by this brand are always tested under stringent parameters before dispatching.
Therefore, these are among the best infrared heater with humidifier devices that are completely safe to be placed around pets and children.
2- pureHeat Heater, Humidifier and Air Purifier
preheat Heater with Humidifier and Air purifier is a complete solution for the perfect air quality in your home during winters.
This is just a type of 3 in 1 heater; with all the features of a plasma purifier, a humidifier, and a heater.
The humidifying, sterilizing, purifying, and infrared heating features of this room heater and humidifier combo make your room warm, clean, cozy, and comfortable.
It also includes the safe tip-over switch and overheats safe cut-out features to prevent the unit from overheating the air while providing the optimum temperature safely.
Its HEPA filter is highly efficient and helps eliminate microparticles of the size as small as 0.3 microns, up to 99.5%, making the air around you safe for your health.
It's Plasma ION generator kills any air pollutants at the molecular level itself. The heater's fan is capable of transmitting water vapor into the air, making it much comfortable for you to breathe.
The pureHeat heater and humidifier combo unit also incorporate a PCO system which helps eliminate bad odor from your room.
At the same time, it destroys all the bacteria and germs to provide a healthy and pure breathing environment.
Overall, the unit works great to prevent you from getting infected with various types of airborne illnesses like allergy, skin infections, cold and flu, nose bleeds, breathing problems, etc.
Such a combination is not found in any other product, so this is one of the best units which can be used by families during cold weather conditions.
Even people with respiratory issues find this device comfortable to use.
3- Wiland Ceramic Space Heater With Humidifier
The Wiland Heater with Humidifier is a great product that heats, moisturizes, freshens, filters and revitalizes dry air in your room simultaneously.
It is a portable device that makes moving it from one place to another easy. It is built sleek in such a way that you can use it conveniently without any trouble.
The heater and humidifier combo comes with 3 efficient heat settings (900, 1200, and 1500-Watts) that help you adjust the temperature according to your needs.
Furthermore, you do not have to add any cartridges or filters to it, so overall it is a very useful product for daily use.
Comprised of anti-microbial technology, the unit takes care of your health and safety by preventing bacteria and germs from growing inside the water tank.
The unit gives maximum output with 12 hours run time in one tank refill.
Ultimately this smartly designed unit protects you from sore throats, dry skin, flu, chapped lips and skin, nose bleeds, and your home furniture from cracks, breakage, etc. caused due to lack of moisture in the air.
You will definitely love the Wiland Heater with Humidifier for its excellent features and easy to use design.
Few Other Models and Our Recommendation
Although the above models are the best to check when it comes to buying a portable heater with a humidifier, you can make your research on models like New Age Living, Dyson Humidifier Heater, and SPT SH-1505 Ceramic Heater with Humidifier.
There are also a few oil-filled room heaters with humidifier models available to buy online. But as these oil heaters with humidifier units are less efficient and not easier to use these are less popular among the users.
Many consumers also tried using an all-in-one air cooler with heater and humidifier units for their family, but have found them useless just after few months of usage as it does not intend to do their job well.
Based on the users liking and reviews, we nominate Dr. Infrared Heater with Humidifier is the best device of the year that can help you keep warm and humid these winters.
This best-infrared heater with humidifier comes with some of the best features and you will definitely not regret buying this piece for your baby and complete family.
---
Why Use A Humidifier And Heater Together?
Simple, because you need to get a comfortable temperature as well as a healthy level of humidity in your home.
By using a combo device you can not only increase the temperature in winters but also get rid of dry air problems that are allergic in nature.
The best thing is, a device like this benefits your body as well as your wallet.
Since a properly moisturized air feels to be warmer at lower temperatures than compared to dry air at higher temperatures, it can significantly save on your utility bills.
Is It Safe To Keep Humidifier And Heater On At The Same Time?
Yes, this is pretty safe!
However, care that you use a cool-mist humidifier with a room heater as it is a more effective and safer option than as compared to warm misting.
Many users in the U.S. claimed that keeping both of these devices ON for the whole night delivered them improved sleep in chilling winters.
Many others also found this to be beneficial for their baby's room for making them breathe easy.
Again, if you want to save yourself from all the hassles of keeping both these devices at home – buying the best heater with humidifier and thermostat is an option for you.
Meen Smith is a nurse by profession who loves writing online, spending time with her family and caring for the elderly. She has already worked as an associate editor on various moms, babies, home appliances, kitchen, and healthy living blogs. In her spare time, she also enjoys drawing, reading/writing kindle eBooks and improving her skills a bit.