Humidifier and heater are most desiring home appliances in winters. These are essentially required in a room to make the surrounding air moist and comfortably warm.
However when we keep our heaters ON at most of the times during cold winters, it leads to dry air problem. This causes so many health and skin issues which becomes often hard to tackle. Using a good cool mist humidifier unit becomes therefore important.
Although adding both of these units is essential for overall health, most of us ignore adding one or the other. This is sometimes due to the cost and at other times due to lack of extra space in our rooms to accommodate both the devices.
Thanks to humidifier and heater combo device, which can solve all your problems.
What Is A Heater Humidifier Combo?
Here we are discussing about the less known devices which are known as Heater Humidifier Combo or Heater with Humidifier units.
The idea to develop these devices is to satisfy the demand of users who are in need of a one single device that can function best in both the ways (heater as well as humidifier), for providing the maximum comfort in cold winter months.
With this single appliance in your room you can now enjoy the benefits of heater as well as humidifier without the need to worry about cost or space in your room. With this type of device in your home, you can actually keep humidifier and heater ON at the same time to enjoy the best comfortable indoors.
As this heater humidifier combo unit cost less than two individual units (heater and a humidifier), it is quite easy for your pocket.
And as it requires less space to accommodate as compared to two individual units (a room heater and a humidifier) you need not worry about the space you have in your small room.
5 Best Humidifier with Heater Combo Units
Heater with Humidifier combo unit is a great option for you if you are planning to buy a new room heater and a humidifier, for this winter season. Let us check out the best options and reviews below so that you can easily buy one for yourself and your family.
1- Dr. Infrared Heater Portable Space Heater with Humidifier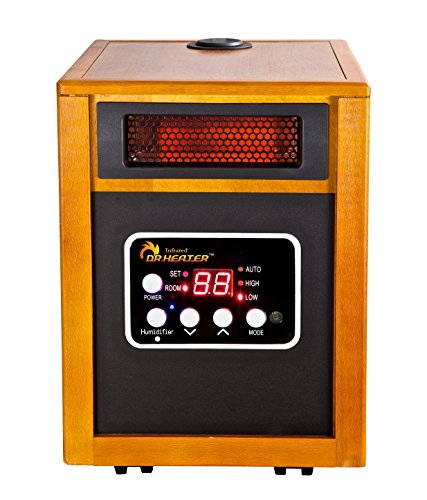 Considered as a newly designed and engineered heater from the USA, Dr. Infrared heater with a humidifier must be a necessary item on your checklist.
This heater with humidifier is designed to heat up a large room with its dual heating system. At the same time its built-in ultrasonic humidifier works great for maintaining the best humidity levels of the room.
The 1500-Watt heater of  this Dr Infrared heater with humidifier device comes with both high and low temperature setting which can range from 50 to 85 degree, making it an affordable way to control your interior environment.
This portable heater humidifier device is an amalgamation of PTC and quartz infrared tube. Also it comprises of overheat protection (with 12 hours of automatic shut-off timer) and tip-over protection for additional safety. Few additional features include:
Lighter in weight and can be carried easily from one place to another
Compare to other heaters, this heater humidifier combo unit can heat a larger room by 60% more
Comes with high-velocity low noise blower and dual heating system, which helps in keeping you warm during the jittery cold temperature
Above all the unit is always tested under stringent parameters before dispatching. Therefore, these heaters are safe to be placed around pets and children.
2- Quartz Infrared Heater with Humidifier Plasma Inverter Air Purifier XPD-1500BLK
Quartz Infrared Heater with Humidifier Plasma Inverter Air purifier XPD-1500BLK by XtremepowerUS is a complete solution for the perfect air quality in your home during winters. This is just type of 4 in 1 heater; with all the features of: plasma purifier, a humidifier, a quartz infrared heater and a sterilizer.
The humidifying, sterilizing, purifying and infrared heating features of this room heater and humidifier combo makes your room warm, clean, cozy and comfortable. It also includes the safe tip over switch and overheat safe cut out features to prevent the unit from overheating the air while providing the optimum temperature safely.
Its HEPA filter is highly efficient and helps eliminate micro particles of the size as small as 0.3 microns, up to 99.5%, making the air around you safe for your health. Its Plasma ION generator kills any air pollutants at the molecular level itself. The heater's fan is capable of transmitting water vapor into air, making it much comfortable for you to breathe.
This XtremepowerUS heater and humidifier combo unit also incorporates a PCO system which helps eliminate bad odor from your room. At the same time, it destroys all the bacteria and germs to provide a healthy and pure breathing environment.
Overall, the unit works great to prevent you from getting infected with various types of airborne illnesses like allergy, skin infections, cold and flu, nose bleeds, breathing problems, etc. Such a combination is not found in any other product, so this is one of the best unit which can be used by families during cold weather conditions. Even people with respiratory issues find this device comfortable to use.
3- Envion Humidiheat 3-in-1 Heater with Humidifier and Air Washer
The Envion Humidiheat 3-in-1 Heater with Humidifier and air washer is a great product that heats, moisturizes, freshens, filters and revitalizes dry air in your room simultaneously. It is a portable device which makes moving it from one place to another easy. It is built sleek in such a way that you can use it conveniently without any trouble.
This heater and humidifier combo
comes with 3 efficient heat settings (900, 1200 and 1500-Watts) that help you adjust the temperature according to your needs. Furthermore you do not have to add any cartridges or filters to it, so overall it is a very useful product for daily use.
Comprised of anti-microbial technology, the unit takes care of your health and safety by preventing bacteria and germs from growing inside the water tank. The unit gives maximum output with 12 hour run time in one tank refill.
Ultimately this smartly designed unit protects you from sore throats, dry skin, flu, chapped lips and skin, nose bleeds, and your home furniture from cracks, breakage, etc. caused due to lack of moisture in the air. You will definitely love the Envion Humidiheat 3-in-1 Heater with Humidifier for its excellent features and easy to use design.
4- Sunpentown Ceramic Heater with Humidifier SPT SH-1505

The Sunpentown ceramic heater with humidifier is specially designed to keep your homes warm when it is freezing outside and bit cool when it is too hot & dry outside.
This SPT ceramic heater with humidifier comes with high and low heat settings that can be used with or without the humidifier. With these settings your home temperature can be easily changed according to your requirement.
Furthermore it comes with an adjustable thermostat that lets you choose the comfort level you want to maintain. And its unique built-in humidifier helps to add moisture to the air in your rooms when heat is making the air too dry to breathe. While making the breathing easier, it also works great to protect your skin from getting dehydrated and dull.
This ceramic heater humidifier combo also features utilities such as:
Thermal cut-off
automatic overheat protection
easy-to-use control dials
Power "on" light and tip-over switch
All these special features provide convenience and safety for everyday use.
Overall this energy efficient heater with humidifier and thermostat device creates a soothing warm atmosphere without over drying it. You should definitely check this out while buying.
5- New Age Living H1000-4 Infrared Heater with Humidifier Air Purifier UV Sterilizer
New Age Living heater humidifier air purifier all-in-one is a perfect combination for enjoying warm, humid and safe air indoors. With its Quartz 1500W heating element it creates a pleasant and even heating inside your room to gift you with a healthy and comfortable surrounding atmosphere.
With its built-in air purifier, HEPA filter and UV sterilizer it works to remove harmful pollutants and allergens. Also with its advanced PCO technology it helps in killing bacteria and viruses present in the air.
For the members in your family who suffers from respiratory issues, this New Age Living heater and humidifier combo is best to use. It welcomes you to a comfortable environment, no matter how worst the weather is.
Furthermore this device comes with seven temperature preset settings which means you are free from handling any complicated thermostats to program the machine, for to maintain the desired temperature.
The device comes with three years warranty service and is safe as well as user friendly to use.