Essential oils have become a popular alternative health treatment for adults across the globe, but are they safe for your babies?
All parents know: protecting their babies is their most important priority.
If you're in this boat, you may be wondering if the essential oils that have been working for you are also safe for your baby.
The answer isn't quite so simple. But in short…
Diffusing essential oils into the air is considered to be a much safer option than using them directly on the skin of your baby.
But since these can be irritating for some (and you never know if your baby is being irritated) you should avoid diffusing essential oils around infants under 6 months old.
Below, we'll take a look at how essential oils can affect your baby in detail. In doing so, we'll also determine which ones and which practices are safer for newborns.
Keep this information in mind as you look to make sure that both you and your baby are as healthy as possible.
Are Essential Oil Diffusers Safe for Babies?
So, here's the question: are essential oils really safe? If so, are all oil diffusers okay to use?
Let's take a look at each question in turn.
First, it's critical to understand that not all essential oils are safe for your baby. The good news, however, is that several of them are.
Below, we'll walk through some of the best essential oils for your baby so that you can get the most from your purchase.
For now, however, let's focus on the latter question: which oil diffusers are safe for your baby.
If you've been struggling to find an essential oil diffuser right for your baby, we've got some solutions for you. Keep in mind, however, that essential oil diffusers aren't a "one-size-fits-all" type ordeal.
Make sure that you take the time to understand your baby's particular health needs and how they relate to the oil diffuser you purchase.
Can You Diffuse Oils Overnight?
Generally speaking, you're not going to want to expose your baby to high concentrations of essential oils.
In fact, smaller concentrations prove healthier and more beneficial to protecting children against a variety of diseases.
For this reason, it's the best limit the amount of time you're running a diffuser. This means cutting overnight diffusing.
This will help cut down on the essential oil concentration in the air, as well as allow you to protect your baby in case of an emergency.
---
Factors to Consider When Buying Diffusers for Babies
Don't know where to start?
No problem. Check out the following considerations that every parent should make when choosing an essential oil diffuser right for their babies:
✅ Choose One with Controllable Lighting:
You may find that your baby enjoys the light from an essential oil diffuser.
But while this can seem like a good thing at first, you'll quickly find that it's not always so convenient.
Have trouble putting your little one to bed? That could get even more problematic if you invest in an essential oil diffuser that doesn't allow you to cut the lights.
And we already know that you're not looking to make bedtime any harder than it already is.
For this reason, be sure that you choose an essential oil diffuser that allows you to control the lighting.
This way, you can keep your baby entertained when the need is—while also allowing him to sleep.
✅ Make Sure that You Choose One with a Wide Range:
When considering your baby's safety, one of the most important things to keep in mind is that the diffuser shouldn't be placed too close to the crib.
In fact, you should always put the diffuser as far away from the baby as possible—within reason, of course.
You're still going to want your baby to benefit from the oils that are being diffused—you just want to make sure that the concentration isn't too high.
For this reason, you should invest in an essential oil diffuser that features a large range. The more area it covers, the less concentrated the oils will be—making it safer for your baby.
You'll also be able to place the oils further away from your baby, meaning that you can be sure not to overwhelm them.
✅ Be Sure That It Has an Automatic Shutdown Feature:
Leaving a diffuser running when it's out of oil can be dangerous—even life-threatening.
For this reason, never purchase an oil diffuser that doesn't automatically shut off when the oil has run out. If you do, you could be putting your baby—and yourself—at serious risk.
This simple consideration has powerful consequences, so be sure that you don't make the wrong investment.
✅ Choose a Soothing and Humidifying Dispenser:
Not all humidifiers and diffusers are created equal.
Make sure that you invest in one that can help humidify the air and at the same time soothe your baby's senses.
Many parents favor Ultrasonic diffusers with a humidifier to get this job done.
---
What Essential Oils Are Safe to Use Around Babies?
Remember when we said that not all essential oils are safe to use around babies?
Well, we've put together a list of a few that are.
If you're looking for the best essential oils for your baby, keep the following in mind. Be sure that you know your baby's reaction to these oils before exposure, however.
By breathing the proper essential oils, your baby can be on its way to living a healthier and happier life.
Experts suggest that the use of these essential oils can boost your baby's health and prevent the development of the disease.
Consider the following popular essential oils for babies:
1- Lavender:
Used both to help a night of baby sleep and to treat some diseases.
With effective use, you can protect your baby by placing a thin mixture of lavender and olive oil on your baby's scalp.
2- Lemon:
Washing your baby with lemon can help reduce the symptoms of several diseases.
3- Geranium:
This powerful essential oil is mainly used to aid the baby as it attempts to sleep. By using this oil, you can make bedtime less of a hassle.
4- German Chamomile:
German Chamomile is best used when added to your baby's bathwater. It's also great for reducing stress and allowing babies to sleep better.
Keep these oils in mind as you look to develop an essential oils regime right for your family.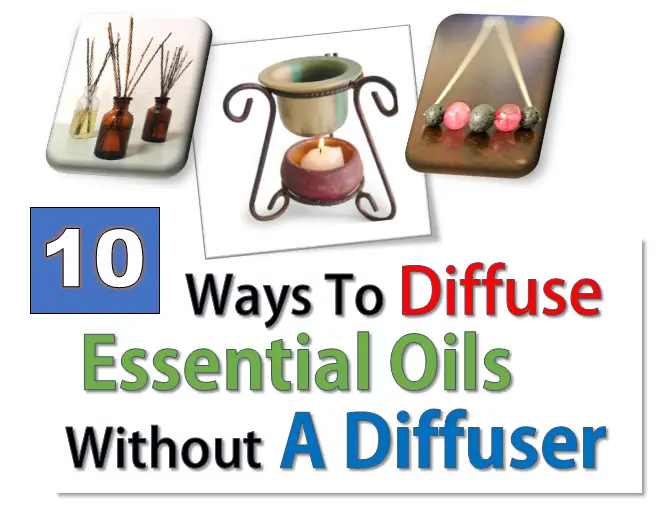 10 Exciting Ways to Diffuse Essential Oils without A Diffuser
Just in case you are interested in knowing other ways for – how to diffuse essential oils without a diffuser – here are a few additional exciting options for you.
The best thing when trying these DIY essential oil diffusers at home is, you need not invest in those expensive electrically operated nebulizing diffusers or ultrasonic diffusers.
As the techniques mentioned here (to make an essential oil diffuser) are very easy and affordable, these can be tried any time you want at your home.
1- Scented Votive Candles
Using a scented votive candle is one of the best ways by which you can enjoy the therapeutic benefits of essential oils without using an ultrasonic diffuser.
Making a DIY homemade diffuser with these candles can be done in two ways:
✓ In the first method lit a candle on a flat surface. Allow it to remain in lighted condition for about five minutes.
Now blow out the candle, and then drop a single drop of essential oil into the melted wax of the candle.
Just relight the candle once again. The oil mixed with melted wax will diffuse the fragrance of the oil throughout the room in which the candle is lit up.
✓ In the second method, the essential oil is taken in a small bowl, which is warmed up using a candlelight placed just below it.
A candle diffuser or bowl used may be made up of metal or ceramic with a small opening.
2- Cotton Ball or Tissue
Using cotton balls to diffuse essential oils is one of the cheapest methods you can try at home.
To make this work just follow these steps:
Sprinkle few drops of your favorite essential oils onto a piece of cotton ball
Now place this cotton ball (dripped in oil) on your floorboard, registers, or a fan vent in your car
The air flowing through the vent will automatically diffuse the scent into the air making your room or a car scented
If you want you can also use tissue paper, a hand towel, a washcloth, etc. instead of a cotton ball. Keep it beside your work table and feel how it makes the environment soothing within few minutes.
Personally, I love sprinkling my lavender oil on my pillowcase, before going to bed at night 🙂
3- Pot On The Stove
You may be wondering about – how can you diffuse essential oils on the stove?
But let me tell you, with this simple method of making a natural homemade diffuser you can easily make your home or kitchen smelling great within a few seconds.
Take a pot in your kitchen and fill it partly with fresh tap water
Sprinkle 1-2 drops of your favorite essential oil in a pot and put on a stove or induction
Keep the flame of your stove low and allow the scented water to evaporate slowly into the air
This is one of the best ways by which you can not only get rid of cooking smells quickly but also can humidify the dry air naturally without using a humidifier.
Make sure that you do not boil the water rapidly. Just allow it to steam slowly so that it will fill your kitchen with a nice scented aroma feeling you refreshed and.
4- Ornaments Diffuser
Designing a piece of DIY aromatherapy jewelry (like necklaces and bracelets) is another great way to make your own aroma diffuser at home very easily.
Made up of special stones or beads (like lava stone), these DIY essential oil diffuser necklaces are quite popular these days and can also be given as a perfect gift to your loved ones.
Items you will need to make one at your home may include:
Essential oils
Jewelry clasp and jump rings
Needle nose pliers and bead wire
Lava stone beads or wooden beads
With a few simple steps, you can easily design stylish pieces of jewelry in such a way that they can serve your purpose to the utmost level.
Get the help of your spouse or kids in making them. Believe me, you will love spending a great time while making these lovely pieces at home.
5- DIY Reed Diffuser
No matter your main concern is to enjoy aromatherapy OR you just want to get a fresh aromatic environment – nothing can work better than a DIY reed diffuser.
Although there are many reed diffusers available in the market, making one for your home can be much calming and satisfying.
As making one at home is not rocket science, you can prepare your very own homemade diffuser by investing very less time and efforts.
For preparing it you just need:
Essential oils
Freshwater
A bottle and
Some rattan reeds
The complete process for making it can be checked here.
6- Reusable Spray Bottle
Can you ever believe that your old reusable spray bottles can be used to heal your body through aromatherapy?
I am sure, most of you haven't thought of it yet!
Pick your old spray bottle and fill it with water
Add a few drops of your favorite EO into it
Mix it well and use it as an air freshener to freshen up your room
You can use a single essential oil of your choice or can even try a popular air freshener recipe that makes use of vinegar (to neutralize the odor).
Believe me, this affordable method can help you get rid of those musty and moldy smells in your home within a few minutes, without using any expensive ultrasonic diffuser.
✓ Tip: If you do not want to reuse old spray bottles, you can also find some cheap ones online made up of glass that are best for using essential oils.
7- Lamp Ring Diffuser
If you are in search of the simplest, most effective, and inexpensive way to create an aromatic environment in your room naturally, then the lamp ring type of diffusers is best to use.
Take a specialized ceramic ring, add few drops of essential oil to it and place it on a lighted bulb
As the bulb heats up, the ring produces aromatic oil vapors within a few minutes which spreads up all over the space
These aromatherapy lamp ring diffusers work perfectly on low voltage bulbs. Lesser the voltage of the bulb, the longer the aroma spreads into your room and stays for hours and days.
Care that you do not use the rings with halogens as they get very hot quickly and may lead to the burning of essential oils.
8- Rice Essential Oil Air Freshener
Using a bowl of easy rice & essential oil air freshener diffuser recipe is one of the quickest ways to add aromatic fragrance to your room/home without any hassle.
This DIY diffuser recipe requires only two minutes to brighten up your mood with great scent all around.
Start by taking a small dish or a cup
Add about half a cup of aromatic rice (I like jasmine rice that has the sweet smell of its own) into a dish
Add 10-15 drops of your favorite essential oil (lemon, peppermint, pine, lavender, or anything you like) into the dish filled with rice
Now mix this mixture evenly so that the aroma oils get stirred up throughout the rice. Depending on the essential oil you use, you can add 4-5 drops more into it to make the mixture bit stronger
Upon mixing it evenly you can now place this mixture in a tray or a dish and keep it at a place where you want to disperse the aroma in the air.
9- Use Essential Oil Directly on Skin
Using essential oils directly on your body or skin can help in healing the body naturally by enhancing the immune system and by avoiding many illnesses caused due to pollution in the air.
However, care has to be taken that you do it in the right way and choose the right essential oil, a few of them can irritate your skin if not used correctly.
If the oil you are using is safe for the skin, you can just sprinkle 2-3 drops of it on your palm
Rub it on your palm and by holding the hand below your face try to breathe it deeply
Depending on what type of EO you are using or how strong it is, you can also add a bit of carrier oil like coconut oil.
If you are not confirmed about whether you can use the oil on your skin, no problem! You can then simply try this method by opening a bottle of oil and breathing it directly from its opening.
10- Using Essential Oils In The Bath
Putting essential oils in your bath is one of the simplest and most effective ways of enjoying essential oil aromatherapy without a diffuser.
To a warm bath, you just need to add a few drops of relaxing aromatic oils
As the warmth of the water and oil touches your skin it gets absorbed rapidly
These essential oils for bath water not only gets absorbed quickly into your skin but also the fragrance around is inhaled slowly into your lungs making you feel relaxed and stress-free.
---
Precautions and Tips while Using DIY Oil Diffusers
Although essential oils come with various soothing properties, not using them properly can prove to be highly risky for your body.
Few important points you need to keep in mind while using essential oils to make DIY homemade oil diffusers are:
Do not ever try to use them internally or for ingestion
Store the essentials safe and out of reach from kids and pets
Always use very few drops of oil, try diluting them if needed with a base oil
Read the instructions and safety tips provided by the manufacturer on the bottle of the oil before using them
All-natural and pure therapeutic grade essential oils are completely non-toxic to the human body which makes them highly safe for your kids and the pets at your home.
Do research well and buy only the best quality from the reputed brand to keep yourself and your family safe.
Final Thoughts
Essential oils and oil diffusers can be a great way to heal various health and allergy conditions for your baby.
By following the advice above, you can be on your way to safely use essential oils around your baby.
If, however, you want to buy the best essential oil diffuser for baby room you need to understand that there are various options available on the market.
You will therefore, need to spend enough time to do proper research and find the safest option for your toddler.
Although there are some of the very effective ultrasonic diffusers available, we recommend buying a good waterless and plastic-free nebulizing diffuser for your kid's room.
As these do not use water and heat while diffusing the essential oils, these are very effective in producing an all-natural pure mist of aromatherapy vapors that can heal your baby soon.
You will surely love to use these diffusers as the benefits you get from the concentrated essential oils are much effective.
Meen Smith is a nurse by profession who loves writing online, spending time with her family and caring for the elderly. She has already worked as an associate editor on various moms, babies, home appliances, kitchen, and healthy living blogs. In her spare time, she also enjoys drawing, reading/writing kindle eBooks and improving her skills a bit.