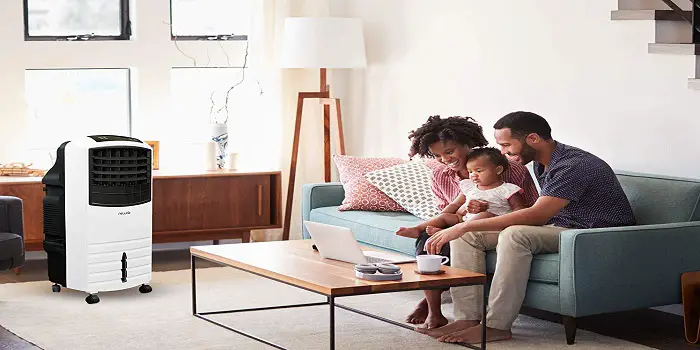 An ultrasonic humidifier with a fan or a humidifier fan combo can be the most beneficial, cost-effective, and efficient way to cool your room in the summer.
Especially in places with arid climates where the air is dry and low in humidity, these types of fan and humidifier combo models can be of great advantage.
Not only does it help in cooling your room, but also it helps in enhancing the humidity levels during dry summer days to make the indoor environment most comfortable for your family.
But with such a wide range of brands and models, selecting the correct one for your family is quite a challenge.
If you are already planning to buy one, let us help you walk through it by making your research easy.
Below in this guide, you will read about the benefits, best reviews, and valuable tips relating to fan and humidifier combo devices.
Hopefully, it will help in choosing the best device for the home you deserve.
Why Humidifier with Fan?
Dry, warm air has its benefits as well as side effects.
Particularly in summers, it is welcomed as it helps to evaporate the moisture from your skin and provides an escape from the heat and humidity levels in the atmosphere.
For infants, it may prove to be good as the circulation made by the fan can help reduce the dangers of infant death syndrome.
Hence, the age of the person sleeping in a fan also matters to a great extent.
However, at the same time, dry air has been proved to be very harmful to some people as it can aggravate sinus issues for allergy sufferers.
And for this reason, controlling the humidity in the air is important for people belonging to these groups.
4 Best Fan and Humidifier Combos
Looking for a device that can hydrate the dry air in winters and cool the hot air in summers?
No worries, we have researched and reviewed some of the best devices to help you.
Check the following humidifier with fan/cooler models that can serve your purpose well.
1- Dyson AM10 Humidifier Fan
Dyson Fan with Humidifier AM10 is one of the most intelligent machines you can find to humidify and cool your room in summer.
Crammed with Patented Air Multiplier technology, it can generate a long-range of mist projection that distributes hydrated and hygienic air in the room evenly.
Also, the device uses an Intelligent Climate Control system that measures the temperature and the moisture in the air to create the most comfortable environment without any over-humidification.
The good thing is you can use this feature with only one button press on the provided remote control.
Furthermore, through its Ultraviolet Cleanse technology (UVC light), the Dyson fan and humidifier device kills 99.9% of bacteria before projecting the high velocity hydrated air into the room.
What's more, it's available in exciting colors (white/silver, iron/blue, black/nickel) so that you can choose the one that perfectly matches your mood and interiors.
Pros
Cons
• AAFA Certified
• Accurate climate control
• UVC light to kill the bacteria
• Dual function for year-round use
• Bit expensive
• Possible leakage issues
2- Honeywell Compact Cooler and Humidifier
Honeywell 525-729CFM is another great fan-powered humidifier or an evaporative cooler that's ideal for indoors as well as outdoor.
Mainly if you reside in the southwest or Midwest regions of the US, this Honeywell swamp cooler can work pretty well for you to provide quick relief from hot/dry climates due to low humidity levels.
For maximizing efficiency and comfort, it comes with an adjustable humidification dial, ice compartment & a remote so that you can easily control the settings from far.
Also, it includes Carbon Dust Air Filter so you can get clean and cool air just like a comfortable, cool lake breeze in your home.
No matter whether you want it for your living room, bedroom, patio/ BBQ area, deck, or garage, this can help you cool and humidify all your small to medium indoor and outdoor spaces very quickly.  
Pros
Cons
• Low power consumption 288W
• Weather-resistant for outdoor use
• Detachable Tank for easy maintenance
• Low water alarm and energy-saving timer
• Powerful 525-729 CFM airflow for spot cooling
• Bit noisy
• Not suitable for very high temperatures
3- Luma Comfort 4-In-1 Tower Humidifier and Cooler
Luma Comfort Evaporative Cooler 1650 CFM is another environmentally friendly cooling device that can efficiently reduce temperature through water evaporation.
This air cooler can work as a tower fan and humidifier in one.
It comes with 3 cooling speeds & wind modes that deliver you a fresh, humidified, and calming breeze even in the hottest conditions.
If you want a device that's more than a fan and less than an air conditioner, this is the one you will need to pick.  
With its 650 square foot cooling capacity, Luma Comfort is an ideal placement for indoors and outdoors.
Pros
Cons
• Low noise – 68 dB
• EC220W high power
• Covers up to 650 sq. ft.
• Widespread oscillation
• Powerful blower design
• Bulky
• Somewhat noisy
4- Newair Portable Evaporative Air Cooler with Fan and Humidifier
NewAir portable evaporative air cooler with tower fan & humidifier comes in appealing white color, which is best suited for your indoor décor.
It's efficient enough to cool the rooms up to 300 square feet without you worrying about the huge energy costs.
This NewAir AF-1000 unit is lightweight and highly portable. Also, it includes soft caster wheels, which means you can easily roll and move it to the room where you need the cooling.
It also has an extra-large water tank that can hold up to 5.3 gallons. Since it is easy to use, you need not worry about refilling and draining.
Lastly, this evaporative cooler unit uses no chemical refrigerants and is environment-friendly.
All it provides you with a fresh, refreshing breeze on all the summer days without any concern.
Pros
Cons
• Lightweight and portable
• Tank easy to refill and drain
• Comes in 3 different attractive colors
• 3 fan speeds with oscillating function
• Easy roll casters for effortless transporting
• Convenient remote control and a timer for bedtime
• Some leakage issue
---
Considerations When Buying
With summers coming near, it's good to purchase a humidifier with a built-in fan that not only humidifies the dry air but can also cool it significantly.
But before making your purchase, it's good to check some of the features you may need in your unit for powerful cooling and the most comfortable humidity.
Let's discuss some of them here…
1- Less Noisy:
Since most of the home cooling devices you find on the market make lots of noise when operating, this is most important to look at.
The device you choose should make less noise and should not disturb your sleep when you want to operate it at night.
2- Ideal Moisture Output:
The cooling humidifier-fan combo device you choose should be perfect for homes with small to medium-sized rooms.
That said, it's important to choose the unit with a variable humidity output control located on the front for easy operation.
This will help you get customized cooling and humidity per your specific requirements.
3- Compact and Easy to Use:
Your fan cooler with a humidifier device should be easy to use and fuss-free. Also, it should come with a water tank that is easy to refill.
Furthermore, the size of the unit you pick should be compact that can be easily carried from one room to another without any problem.
4- Safe and Efficient:
The humidifier-fan-combo unit should be energy efficient and safe to use.
Since you will be using the device for long hours (and for the whole night), it's better to choose the unit that consumes less power.
This way, you can save on your energy bills significantly.
---
Does a Fan Dry Out the Air in a Room?
Ceiling fans are extremely popular. These prove helpful in different climates and temperatures by providing the necessary air and ventilation in our homes.
They also help people who have difficulty sleeping by providing a mild bustling sound that relaxes the mind and blocks other kinds of noises, which ultimately helps them to fall asleep.
However, when it comes to fan and air dryness, yes, it dries the air to some extent.
Ceiling fans do create a dry air atmosphere inside your room, but it does not increase the dry air in the home.
As a matter of fact, ceiling fans are not responsible for increasing the atmosphere's humidity levels.
It also does not increases the amount of dry air in the atmosphere. But their main job is to circulate the air inside the room.
To help you know better, let's look at how the ceiling fan works…
In summers, they work in the anticlockwise direction pushing the hot air downwards to the floor where it mixes with the cool air at the bottom.
In winters, they make a clockwise movement by pulling the cool air up towards the ceiling. Hence, it does not increase the dry air in the atmosphere.
Since the fan circulates the air around, it dries out the air and can irritate the sinus, causing sinus issues for many.
For some people, these issues can result in serious illnesses.
So, does this mean I can use a fan to dry the humid air?
Well, if you do prefer to lower the high humidity levels inside your room, a ceiling fan is not a recommended device.
Dehumidifiers are the best thing to use if you want to increase the dry air (and decrease the humidity) in the summertime.
These help to suck the humid air inside by blowing a fan over it along with cold and hot water, which ultimately releases moisture and vapors from the air, making it dry.
This dry air then goes back into the machine, from where it is circulated throughout the room.
Also Read: How long does the dehumidifier last?
---
Should You Use Humidifier And Fan at the Same Time?
Ceiling fans are very useful to be used in both seasons.
In summers they can be used instead of air conditioners to reduce electricity bills.
And in winter, they can be used on the low thermostat to evenly spread the heat around the room, reducing the electricity bill, which would typically increase if heaters are used all night or for long.
But at the same time, fans, when switched on and kept running for long, can leave you more dehydrated than usual.
This is due to the constant blast of air on your body, mainly when you sleep at night with a fan on.
In extreme conditions, it can also leave your skin, eyes, throat and nasal passages dried, particularly for people who sleep with their eyes and mouth partially open.
Using a good humidifier at the same time is therefore essential to hydrate your skin.
Better if you invest in an excellent humidifier-fan combo.
Meen Smith is a nurse by profession who loves writing online, spending time with her family and caring for the elderly. She has already worked as an associate editor on various moms, babies, home appliances, kitchen, and healthy living blogs. In her spare time, she also enjoys drawing, reading/writing kindle eBooks and improving her skills a bit.