Desk humidifiers are a must-have for people who work long hours in front of their computer screen.
Not only does it help in relieving dry eye syndrome, but also it helps them in keeping their skin hydrated.
The office desk humidifier comes in various kinds, designs, and styles today. These are made handy for personal usage so that more people can use them comfortably where ever they want.
Here in this article, we are going to have a look at a portable mini-sized USB humidifier (that works with USB ports and USB cables connected to your laptop, computer, or tablet).
Most of these devices for desktop office use are available in cute, exciting shapes, sizes & colors to choose from.
Since these look awesome (as a decorative piece on your desk or working station), you should try them out to increase moisture levels and enhance the working experience.
Can A Desk Humidifier Help with Dry Eye Syndrome?
Dry eye is a common condition in humans where your tears do not properly lubricate the eyes.
This usually happens when your eyes produce fewer tears or it gets evaporate too quickly.
Both of these conditions can be caused due to varied factors like:
Aging
Laser eye surgery
Certain medical conditions and medications
Dry air, wind, smoke, or other environmental factors
Blinking less often (like when reading, driving or working on a computer)
As seen above, dry air and environmental conditions are one of the significant factors for dry eyes; maintaining your surroundings at the proper temperature and humidity levels can help a lot.
A humidifier for dry eye syndrome is mainly recommended for those working long hours on their computer or driving a car.
Living with dry eyes can be most uncomfortable as, in severe cases, it may affect both the eyes leading to inflammation.
The 3 Best Desk Humidifiers for Dry Eyes
Planning to buy a USB mini humidifier for your desktop? But are you concerned about whether desk humidifiers work or not for your dry eyes?
Well, let me tell you in short that it works like a charm 🙂
In fact, USB humidifiers for office tables are most preferred by professionals who need to work long hours in front of their laptops or computer.
Also, these are suitable for use in bedrooms, offices, cars, cafes, etc.
If you are wondering what the best humidifier for dry eyes is, you can read about the best portable USB humidifiers in detail below and choose the one that is most suitable as per your requirements.
We are sure that these best office humidifiers can serve you for a long in relieving your dry eyes problem…
1- UltraMist Personal Desktop Humidifier
Fancii UltraMist USB Humidifier is a high-quality best personal humidifier you will love to use anywhere, and everywhere you go.
The Fancii USB humidifier works quietly and operates efficiently to provide refreshing relief from the dry air problems year-round.
This adorable designed small-sized USB humidifier can be used with a USB port. And as it looks formal to suit your office environment ideally, you can use it while working in an office or at home.
This desktop humidifier for work is made portable, compact, and lightweight, making it ideal to use while traveling in a car or in a hotel room.
For added safety, this best battery-operated humidifier shuts off automatically through a preset adjustable timer (2, 4, 6, or 8 hours) or when the water gets emptied.
2- Satechi USB Desktop Humidifier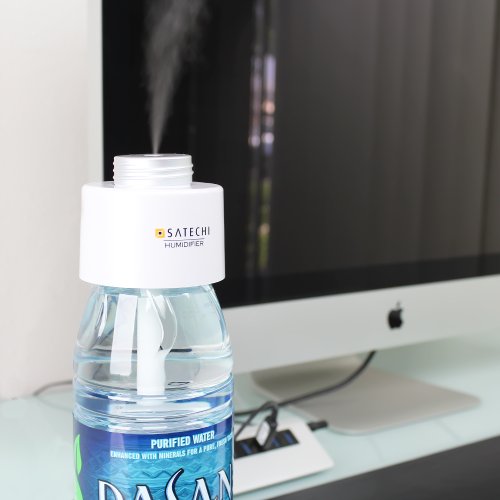 Satechi USB portable humidifier is one of the most deserving USB humidifier devices for your desktop or working station.
To use this best desktop humidifier for work, you can just place it into a narrow opening of a water bottle OR a wider opening of a cup, mug, vase, etc., filled with pure water.
Get this regular Satechi USB humidifier plugged into a USB port to get the cool mist of humidifying air during dry arid weather.
While placing your Satechi humidifier in a water container or bottle, ensure the filter is submerged completely.
The best thing about this USB air humidifier (powered by USB 2.0 or USB 3.0) is that you can add the essential oil or fragrance oil to the water, providing a soothing and relaxing environment.
3- HoMedics USB Personal Humidifier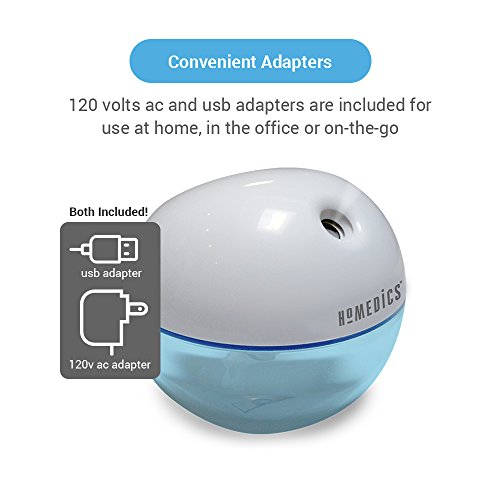 HoMedics personal humidifier is a smart desktop humidifier device that works extremely well for professionals, entrepreneurs, teachers, college students, etc.
This USB-enabled HoMedics portable humidifier is hassle-free and can be simply plugged into the nearest USB power source.
By producing cool mist humidified air in your working space, this lightweight mini humidifier model helps alleviate all the problems related to allergies, skin dryness, irritated eyes, cold, flu, etc.
With this versatile HoMedics personal portable humidifier that comes with a 200ml water tank, you need not get frustrated finding the right water bottle that can fit.
This best desktop humidifier package includes an AC adaptor, USB adaptor, three FREE BONUS wick filters, and a user's manual.
Also, this best compact humidifier for eyes and skin comes backed with a one-year limited warranty to make your purchase risk-free.
---
Benefits Of Using USB Desktop Humidifier for Dry Eyes
USB-enabled portable humidifiers can be used when working at your workplace.
You can also carry these mini gadgets while on the go (during vacations or business tours) to use them where you CANNOT go along carrying your normal room humidifier.
Some of the other best advantages of using a personal desk humidifier are:
1- Ease of Use:
The best advantage of using this USB personal humidifier or a battery-operated humidifier is its easy usage.
The USB-powered humidifier works automatically with a connection to a USB port (USB 2.0 or USB 3.0) present in your working area or room.
Just plug in your USB air humidifier and get ready to enjoy fresh, clean air with an increased level of moisture around your working desk.
2- Healthy Skin, Eyes, and Body:
A portable-sized USB mini humidifier is in demand due to the benefits it healthily provides to you.
Since an air humidifier is a good remedy for relieving symptoms (like cough, cold, flu, nasal congestion, sinus irritation, nose bleeds, dry skin, etc.), you should have this on your must-have gadgets list.
Especially if you are a regular computer user (who works in all seasons), you should definitely have an office humidifier for dry eyes on your desktop.
This helps eliminate eye irritation due to long computer use by providing you with the best soothing moisturized air in winters and in summers.
3- Can Be Used for Aromatherapy:
One of the most exciting benefits of using these mini USB humidifiers on your working table is you can enjoy the healing aroma of essential oils when little is mixed in water placed in a humidifier.
Just keep them ON near you, and while you are busy working on your laptop or PC, it automatically provides you with a refreshed and healthier atmosphere.
4- Available in Attractive Designs:
Many of these best USB humidifiers are available in beautiful designs (like flowers, birds, and many more) and can be installed easily at your working table at home or office.
Enhanced moisture, nice aroma, and beautiful design also help enhance your mood, concentration, and productivity.
5- Consumes Very Less Power and Are Noiseless:
These small portable humidifying machines can also save much on energy bills as it's powered by a battery or USB enabled (which consumes very less power).
As this portable USB humidifier produces no sound at the time of working, you can use these gadgets personally on your table without disturbing anyone.
---
Factors to Consider When Picking A Humidifier for Dry Eyes
Below are a few factors you may need to consider when buying a humidifier to avoid dry eyes syndrome.
1- Size:
One of the significant factors you should consider before purchasing a humidifier for dry eyes is its size.
The larger the humidifier, the more area it will cover. and hence better it can work to restore the moisture to the eyes.
2- Noise level:
Some humidifiers produce much noise during operation. This may lead to disturbance (particularly when you are working on your desktop).
If you don't have any problems with a bit of noise in your working areas, that's fine. But if you feel disturbed by a pin drop, you should definitely choose a humidifier that operates very quietly.
3- Ease of use:
Whether it is manual or automatic control, you want to choose a simple to operate unit that won't stress you out a lot.
It's always best to go for the automatically controlled humidifier, but you will find some manually controlled units that are also very easy for anyone to use.
4- Desktop placement:
The humidifiers for dry eyes are commonly used in offices.
Most dry eye patients prefer a close-range humidification system as it will go directly into their eyes.
So, if you want to use your humidifier in your office, then a desktop humidifier that can work with a USB port is best suited for dry eyes.
The impact of these desktop humidifiers can be felt very well at a close range.
5- Size of water tank:
One of the important factors in deciding the humidifiers is the size of the water tank.
Small size tank humidifiers need to be filled with water frequently, increasing your burden. So, purchase a humidifier with a large water capacity.
The larger size keeps the atmosphere moist the whole day, and you don't have to constantly check the water levels. However, in small tanks, you must constantly check the water levels for a refill.
6- Efficiency/performance:
While purchasing humidifiers, look into the effectiveness of the humidifier you are buying and its durability after using it for some time. Never buy a humidifier that's performance is below your level of expectations.
In most humidifiers, the efficiency of any humidifying unit depends on the size of the unit as well as the size of the water tank. In contrast, durability depends on the body's construction and design.
Some humidifiers have the potential to run nonstop effectively for 24 hours in a 2300 square foot area, while others can only cover 100 square feet.
How To Use USB Desk Humidifier for Dry Eyes?
For checking the USB humidifier instructions and how to operate it properly using a water bottle, you can have a look at the video below.
---
Caring and Maintenance Tips for Your USB Desktop Humidifier
While using these cool mist ultrasonic USB home humidifiers, it is essential to know about their cleaning and storage tips to efficiently use them for a long time.
✓ First of all, to get the best results out of your USB air humidifier, it is advised to use pure distilled water for your device.
As your tap water may contain a high content of minerals that can harm the machine soon, you should avoid using them.
✓ After using your device, care that you clean the deposited mineral and water on the device.
The maintenance of the unit just requires cleaning the humidifier's nozzle with a cotton swab dipped in vinegar.
This can be done every 2 weeks of the usage and will remove any dirt and minerals that have been accumulated.
✓ After cleaning the device, care that you completely dry the unit before you store it for the next usage.
This will avoid getting your gadget jammed in case water or minerals are left in the device.
FAQs
Is steaming good for dry eyes?

Steaming your eyes have a moisturizing benefit, and it relieves your eyes from the itching and pain caused because of dry eye syndrome.

Clean and soothing steam has the same impact as that of the humidifier. When clean and soothing steam is released into the eyes, it raises the moisture content of your eyes for some time.

The steam will moisturize your eyes, and tears will start flowing, which helps you in getting rid of eye contaminants. Always use a clean, warm cloth while cleaning your eyes after steaming.


Does drinking water help dry eyes?

Lack of moisture is a major cause of dry eyes in the human body. Keep your body with enough water as it helps to solve your dry eye problems.

The other reason for dry eyes is also because of a low intake of water, it results in low moisture throughout your whole body (especially your eyes). So, you should take some remedies and drink 6 to 8 glasses of water daily. This will surely help you in reducing your dry eye problems.


Is high humidity bad for dry eyes?

Low humidity levels aren't good for your eyes and tear film. Now you can think that is it good to remain for a longer period in extremely high humidity levels?

Although high humidity levels help you solve many dry eye problems, it has some of its own problems. Having too much humidity in the air leads to excessive moisture around the eyes.

The high level of humidity causes irritations that affect your vision. So, you should not come in contact with high or low humidity levels.


What is the best Humidity level for dry eyes?

You should avoid keeping yourself in contact for a more extended period in dry climates.

In general, humidity levels at 45% or above then above are best suited for correct dry eye problems. So, keep yourself within humidity levels somewhere between 45% to a maximum of 65%.


What Type of Humidifier is best for your dry eyes?

There are many humidifiers available for dry eyes, but the most important factor to consider is what type of humidifier will suit you and what type of humidifier you have to use.

A humidifier that you will use for dry eyes should be either an evaporative or ultrasonic type. The contaminated mists cause more harm to your existing dry eye problems, so the humidifier you will choose should have a high mist output rate.


Overall, the best portable USB humidifier devices mentioned above are brilliant to use for anyone.
Brands such as Deneve, Kbaybo Ecvision, InnoGear, and many more are also offered in various designs that can be checked online if you want to compare more models.
No matter which brand or make you choose, just check that it is made of high-quality material and has a proper warranty.
This will enable you to witness the magical humidity and aroma it spreads for a long!
Meen Smith is a nurse by profession who loves writing online, spending time with her family and caring for the elderly. She has already worked as an associate editor on various moms, babies, home appliances, kitchen, and healthy living blogs. In her spare time, she also enjoys drawing, reading/writing kindle eBooks and improving her skills a bit.