Every one of us love to have great smelling environment at home. Aroma oil diffusers are therefore gaining much popularity.
These devices work with a power source (heat, electricity or battery) to not only refresh the area with sweet and scented aroma but also to tempt the person positively.
Aromatherapy essential oil diffusers not only makes us feel refreshed but also tantalize our nerves to make us healed from various symptoms such as stress, depression, fatigue, etc.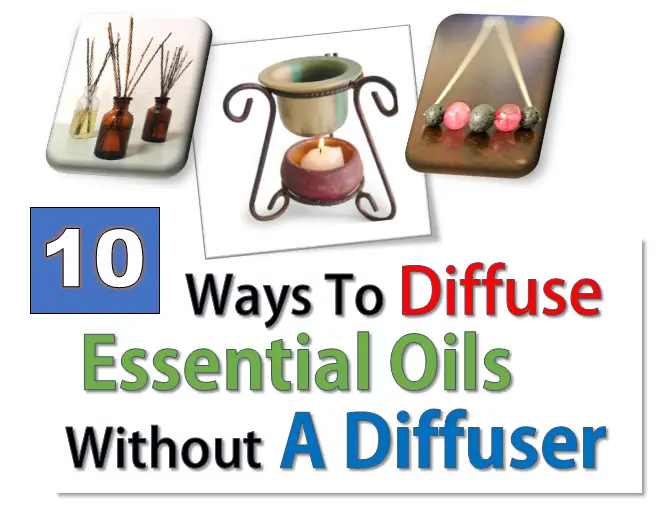 Why DIY Essential Oil Diffuser?
Using an electric essential oil diffuser is highly convenient for homes as well as offices.
However for people who are passionate about DIY techniques, can try making their own DIY room diffuser at home easily by following certain guidelines and tips.
Thanks to the technology and ease of internet access which can now help you make these homemade aroma diffusers to diffuse essential aromatic oils at home in a safer way.
You will find here few best techniques that are flexible to try and use. Check them out below and we are sure you will love these ideas.
10 Ways to Diffuse Essential Oils without A Diffuser
Just in case you are interested in knowing other ways for – how to diffuse essential oils without a diffuser – here are few additional exciting options for you.
The best thing when trying these DIY essential oil diffuser at home is, you need not invest in those expensive electrically operated nebulizing diffusers or ultrasonic diffusers.
As the techniques mentioned here (to make an essential oil diffuser) are very easy and affordable, these can be tried any time you want at your home.
1- Scented Votive Candles
Using a scented votive candle is one of the best ways by which you can enjoy the therapeutically benefits of essential oils without using an ultrasonic diffuser.
Making a diy homemade diffuser with these candles can be done in two ways:
✓ In the first method lit a candle on a flat surface. Allow it to remain in lighted condition for about five minutes.
Now blow out the candle, and then drop a single drop of essential oil into the melted wax of the candle.
Just relight the candle once again. The oil mixed with melted wax will diffuse the fragrance of the oil throughout the room in which the candle is lit up.
✓ In the second method the essential oil is taken in a small bowl, which is warmed up using a candle light placed just below it.
A candle diffuser or bowl used may be made up of metal or ceramic with a small opening.
2- Cotton Ball or Tissue
Using cotton balls to diffuse essential oils is one of the cheapest methods you can try at home.
To make this work just follow these steps:
Sprinkle few drops of your favorite essential oils onto a piece of cotton ball
Now place this cotton ball (dripped in oil) on your floorboard, registers or a fan vent in your car
The air flowing through the vent will automatically diffuse the scent into the air making your room or a car scented
If you want you can also use tissue paper, hand-towel, wash cloth, etc. instead of a cotton ball. Keep it beside your work table and feel how it makes the environment soothing within few minutes.
Personally I love sprinkling my lavender oil on my pillow case, before going to bed at night 🙂
3- Pot On The Stove
You may be wondering about – how can you diffuse essential oils on the stove?
But let me tell you, with this simple method of making a natural homemade diffuser you can easily make your home or kitchen smelling great within few seconds.
Take a pot in your kitchen and fill it partly with fresh tap water
Sprinkle 1-2 drops of your favourite essential oil in a pot and put on a stove or induction
Keep the flame of your stove low and allow the scented water evaporate slowly into the air
This is one of the best ways by which you can not only get rid of cooking smells quickly but also can humidify the dry air naturally without using a humidifier.
Make sure that you do not boil the water rapidly. Just allow it to steam slowly so that it will fill your kitchen with nice scented aroma feeling you refreshed and.
4- Ornaments Diffuser
Designing a DIY aromatherapy jewelry (like necklace and bracelets) is another great way to make your own aroma diffuser at home very easily.
Made up of special stones or beads (like lava stone), these diy essential oil diffuser necklaces are quite popular these days and can also be given as a perfect gift to your loved ones.
Items you will need to make one at your home may include:
Essential oils
Jewelry clasp and jump rings
Needle nose pliers and bead wire
Lava stone beads or wooden beads
With few simple steps you can easily design the stylish pieces of jewelry in such a way that it can serve your purpose to the utmost level.
Get the help of your spouse or kids in making them. Believe me, you will love spending great time while making these lovely pieces at home.
5- DIY Reed Diffuser

No matter your main concern is to enjoy aromatherapy OR you just want to get a fresh aromatic environment – nothing can work better than a DIY reed diffuser.
Although there are many reed diffusers available in the market, making one for your home can be much calming and satisfying.
As making one at home is not a rocket science, you can prepare your very own homemade diffuser by investing very less time and efforts.
For preparing it you just need:
Essential oils
Fresh water
A bottle and
Some rattan reeds
Complete process for making it can be checked here.
6- Reusable Spray Bottle
Can you ever believe that your old reusable spray bottles can be used heal your body through aromatherapy?
I am sure, most of you haven't thought or it yet!
Pick your old spray bottle and fill it with water
Add few drops of your favorite EO into it
Mix it well and use it as an air freshener to freshen up your room
You can use a single essential oil of your choice or can even try a popular air freshener recipe which makes use of vinegar (to neutralize the odor).
Believe me, this affordable method can help you get rid of those musty and moldy smell in your home within few minutes, without using any expensive ultrasonic diffuser.
✓ Tip: If you do not want to reuse old spray bottles, you can also find some cheap ones online made up of glass that are best for using essential oils.
7- Lamp Ring Diffuser
If you are in search of a simplest, most effective and inexpensive way to create an aromatic environment in your room naturally, then lamp ring type of diffusers are best to use.
Take a specialized ceramic ring, add few drops of essential oil to it and place it on a lighted bulb
As the bulb heats up, the ring produces aromatic oil vapors within few minutes which spreads up all over the space
These aromatherapy lamp ring diffusers work perfect on low voltage bulbs. Lesser the voltage of the bulb, the longer the aroma spreads into your room and stays for hours and days.
Care that you do not use the rings with halogens as they get very hot quickly and may lead to burning of essential oils.
8- Rice Essential Oil Air Freshener
Using an easy rice & essential oil air freshener diffuser recipe is one of the quickest way to add aromatic fragrance in your room/home without any hassle.
This diy diffuser recipe require only two minutes to brighten up your mood with great scent all around.
Start by taking a small dish or a cup
Add about half a cup of aromatic rice (I like jasmine rice that has sweet smell of its own) into a dish
Add 10-15 drops of your favorite essential oil (lemon, peppermint, pine, lavender or anything you like) into the dish filled with rice
Now mix this mixture evenly so that the aroma oils get stirred up throughout the rice. Depending on the essential oil you use, you can add 4-5 drops more into it to make the mixture bit stronger
Upon mixing it evenly you can now place this mixture in a tray or a dish and keep it at a place where you want to disperse the aroma in the air.
9- Use Essential Oil Directly on Skin
Using essential oils directly on your body or skin can help in healing the body naturally by enhancing the immune system and by avoiding many illnesses caused due to pollution in the air.
However care has to be taken that you do it in a right way and choose the right essential oil, as few of them can irritate your skin if not used correctly.
If the oil you are using is safe for skin, you can just sprinkle 2-3 drops of it on your palm
Rub it on your palm and by holding the hand below your face try to breathe it deeply
Depending on what type or EO you are using or how strong it is, you can also add a bit of carrier oil like coconut oil.
If you are not confirmed about whether you can use the oil on your skin, no problem! You can then simply try this method by opening a bottle of oil and breathing it directly from its opening.
10- Using Essential Oils In The Bath
Putting essential oils in your bath is one of the simplest and most effective ways of enjoying essential oil aromatherapy without a diffuser.
To a warm bath you just need to add few drops of relaxing aromatic oils
As the warmth of the water and oil touches your skin it gets absorbed rapidly
These essential oils for bath water not only gets absorbed quickly into your skin, but also the fragrance around is inhaled slowly into your lungs making you feel relaxed and stress free.
Precautions and Tips while Using DIY Oil Diffusers
Although essential oils come with various soothing properties, not using them properly can prove to be highly risky for your body.
Few important points you need to keep in mind while using essential oils to make DIY homemade oil diffusers are:
Do not ever try to use them internally or for ingestion
Store the essentials safely and out of reach from kids and pets
Always use very few drop of oil, try diluting them if needed with a base oil
Read the instructions and safety tips provided by the manufacturer on the bottle of the oil before using them
All natural and pure therapeutic grade essential oils are completely non-toxic to the human body which makes it highly safe for your kids and the pets at your home.
Do research well and buy only the best quality from the reputed brand to keep yourself and your family safe.
Eliana is a nurse by profession who loves writing online, spending time with her family and caring for seniors. She has already worked as an associate editor on various mom, baby, home appliances, kitchen and healthy living blogs. In her spare time she also enjoys drawing, reading/writing kindle eBooks and improving her skills a bit.