Presently our atmosphere is heavily polluted by many contaminants like industrial smoke, vehicle smoke, garbage and waste matters, etc.
Due to these uncontrollable pollutants and allergens, the air we breathe in is causing extreme damage to human health every second.
As a result, health conditions like skin irritation, allergies, respiratory disorders like asthma, etc. are getting much more common than ever before.
Not only adults, but also the kids and teenagers are suffering from these chronic health problems all around the globe.
Although we cannot take immediate steps to avoid these issues permanently, we can make our indoors safe and hygienic for healthier breathing.
Adding home appliances like air purifier and air humidifier can help significantly in this respect.
Not only does it helps in easing the condition for asthmatics but also it prevents future attacks by eliminating the allergens from the air, that are known to be the possible triggers for asthma sufferers.
Symptoms of Asthma
Asthma is a pathological condition which affects the respiratory system, mainly the airways, which carries and emits air from the lungs.
Studies showed that children as well as adults with weaker immune system are more susceptible to acquire the problem than compared to healthy adults.
The most common signs and symptoms of asthma are as follows:
Persistent coughing
Excessive sputum formation
Increased breath and heart rate
Chest congestion and tightness of chest
Constricted breathing muscles and inflamed airways
Wheezing and snoring due to problems in exhaling the air outside
Most of these symptoms gets triggered by: getting in contact with allergens, consuming cold items, cold climatic conditions and at night during the sleep time.
Does A Humidifier Help Asthma?
Studies showed that an unstable climatic conditions, seasonal changes and pollutants in the air triggers the asthma problems most for asthmatics.
Using home appliances such as cool mist humidifier and air purifier in your home (as well as in offices), therefore supports the asthmatic by preventing the attacks.
Where an air purifier works to purify the air in the room, a cool mist humidifier adds proper humidity in the room making the atmosphere just right for asthmatics and allergy sufferers.
Maintaining proper balance of humidity in the environment (at about 40 – 50 percent) not only makes the air comfortable for breathing but also helps in eliminating the molds, bacteria and viruses developing in the environment due to less or high humidity problems.
Humidifiers for asthma
patients is therefore most recommended along with medications and treatment methods prescribed by doctors.
Most of these modern day humidifiers comes with a built-in humidistat or hygrometer to help maintain proper moisture in the air in an automated way.
Note: Asthma being incurable, you cannot expect to get your asthma symptoms treated just by installing a room humidifier.
However it surely does help in relieving your symptoms and by avoiding the condition getting worse.
5 Best Humidifier For Asthma Patients
Key to getting maximum relief is choosing a right humidifier for asthmatics and allergic patients.
Reviews provided by various users showed that cool mist humidifier for asthma when chosen carefully can offer much relief to patients as it prevents the air from getting neither too dry nor too humid.
Humidifiers for asthma are now available online at an affordable cost. For your convenience we have shortlisted few top models below.
These are best to install in your room if you are suffering from allergic conditions like asthma.
1- Crane Drop Humidifier
Crane drop ultrasonic cool mist humidifier is one of the best humidifiers for asthma and allergy sufferers.
In fact Crane drop humidifier is one universal humidifier model which is widely recommended by doctors and can be used for relieving various health issues including cough, cold, and flu symptoms, nasal congestion, dry cough, sinus irritation, nose bleeds, and dry skin and hair.
This non-medicated alternative to over the counter cough and cold medicine, comes with 1 gallon tank capacity so that you enjoy continuous good night sleep without the need of refilling the tank at night.
It also features the Clean Control Antimicrobial Material which helps in reducing the mold and bacteria growth up to 99.96%.
2- Pure Enrichment MistAire
Pure Enrichment MistAire humidifier for asthma comes to your rescue if you or any of your family member suffer from asthma or bronchitis issues.
Also if you suffer from conditions like dry skin, puffy eyes or blocked nasal passage you can try Pure Enrichment MistAire to clear them up fast.
The device comes with 1.5 L tank, optional night light feature and an auto shut off that turns the unit off automatically when water level becomes low or the tank is removed.
Users who have already used these humidifiers have expressed total satisfaction, after spent and wasted their money on other devices that hardly showed the expected results.
3- Honeywell Germ Free Humidifier
Honeywell germ free humidifier is the best to restore your normal life from the allergies, stress and tensions, that you encounter every day.
With its germ free technology Honeywell humidifier kills up to 99.999% Bacteria, Mold & Spores in the air to make it healthier to breathe for patients.
Besides easing the allergies and asthma symptoms this evaporative technology humidifier can also be well used for conditions such as pneumonia, flu, fever, bronchitis, laryngitis, etc.
It has 1 gallon tank which is enough to work for a humidifier to run for about 24 hours in one filling. Its auto shut off feature is amazing which works when the tank gets empty.
Overall, its one of the best device you can rely on to ease your respiratory diseases for long term.
✓ Also Read: Warm Or Cool Mist Humidifier For Asthma?
4- VicTsing Ultrasonic Cool Mist Humidifier
VicTsing humidifier is a great option for those who are planning to shop for a good humidifier for baby bedroom. Moms can now decorate their nursery with this attractive looking humidifier.
This noiseless humidifier for wheezing or asthma comes with a 2 L of water tank which allows the device to run for about 10 hours.
Additionally a 45° tilted nozzle is provided to give off continuous mist through a wider humidifying coverage area.
Unlike other models that have button control, VicTsing humidifier comes with a classic control knob to control the mist and humidity.
Furthermore the device is designed safe with automatic stop function when out of water.
Overall VicTsing Cool Mist Ultrasonic humidifier provide an advanced way to take over the effects of dry air, so that easier breathe and peaceful sleep can be provided to asthmatic baby all the time.
5- Sharp Plasmacluster Air Purifier with Humidifier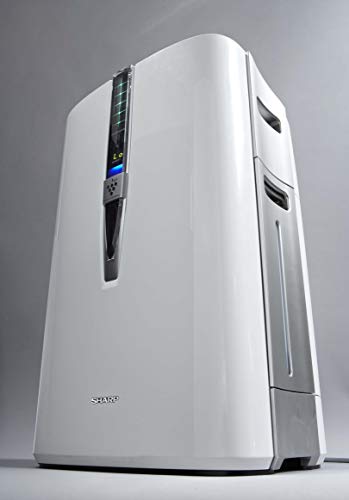 Sharp Plasmacluster is a fabulous humidifier with air purifier model which can purify your room air and at the same time maintains proper humidity of the space.
With a capacity to humidify rooms up to 347 sq. ft. this Energy Star Compliant and AHAM Certified device comes with patented Plasmacluster ion technology and dual stage filter system (HEPA and carbon).
With its best technology Sharp Plasmacluster actively removes all the allergens (like germs, bacteria, pet dander, dust, mites, smoke, pollen, viruses, mold, and fungus) from the air.
If you have decided to stick to a single device that can serve both as humidifier and air purifier, then this is a perfect choice for you.
Its one of the must have device to operate all day and all night for asthma patients.
✓ Also Read: Air Purifier Or Humidifier For Asthma?
While buying, look for the units that are hassle free to clean and maintain.
Also, consider buying lighter weight models since they are easy to carry whenever and wherever you require.
No matter what humidifier or air purifier model you choose, it is important that you take proper steps for its regular maintenance so that you enjoy its best benefits for long.
People are advised to clean the reservoir and other equipment of humidifier in order to rule out the risk of spreading bacteria into the air.
These bacteria can move into the patient's lungs and can cause more harm than benefit.
What Are The Common Asthma Causes and Types?
As such there can be many causes for getting asthma attack. Some of the major reasons for the occurrence are as follows:
Allergic Rhinitis: It has been seen that the person who is allergic to fine dirt particles or who is affected by allergic rhinitis may suffer from chronic asthmatic problems at later stages.
The most common allergy causing mediums are animal hairs, pollen grains, dust particles in the environment, fungus, cockroaches, cold food items like lemon, curd, tender coconut water, ice-creams, etc.
Tobacco Smoking: Another most common reasons for asthma problem is smoking. Most of the asthmatic people who faced serious asthmatic attacks are chain smokers.
Tobacco smoking not only affects the smoker but also the entire environment and individuals near to them.
Environmental Cause: The smokes from the vehicles, industries, fire accidents, garbage firings, etc. causes heavy air pollution with a rich amount of nitrogen oxide and sulphur dioxide.
This in turn causes severe respiratory troubles including bronchitis and asthma.
Stress: Stress is one of the major causes for suffering these days. When a person gets stressed frequently, it also affects the breathing and makes the person to breathe rapidly.
This may sometimes also end up with regular asthmatic attacks.
Lifestyle Cause: Following an unhealthy lifestyle like lack of physical activity, dietary irregularities, consuming medications for simple health issues, etc. results in various problems like overweight, obesity, hypertension, diabetes and many other non-communicable disease.
These conditions if not controlled early can lead to asthma and other respiratory problems easily.
Genetic Reason: Studies reveal that asthma can also borne because of the hereditary reasons. And so our ancestor's genes also plays a major role in getting asthma problem.
Based on the causes and orientation, various types of asthma which are common in society are:
Child onset asthma
Adult onset asthma
Occupation induced asthma
Exercise or activity induced asthma
Cough or allergic reaction induced asthma
Nocturnal asthma (which occurs majorly at midnight)
Drug induced asthma, etc.
The chief diagnostic procedures for diagnosing asthma condition are: Complete chest X-ray, Sputum examination, Peak flow meter test, and PFT (Pulmonary Function Test) mainly spirometry.
✓ Also Read: Humidifier Or Dehumidifier For Asthma?
Few Home Remedies and Tips for Faster Relief
Although asthma is sometimes considered as an incurable disease, one can manage the problem without getting any complications to much extent by getting good treatment at initial stages.
A single decoction made by the help of the below mentioned herbs will give excellent relief in case of asthma.
These herbs are readily found in your home and are considered as best home remedies for asthma.
Black pepper,
Indian long pepper,
Ginger,
Cardamom seeds,
Chinese cinnamon,
Tamarind,
Cumin seeds,
Ashwagandha root,
Malabar nut,
Chebulic and Belliric myrobalan,
Bael fruit
Besides above herbs there are few other simple home remedies which can effectively help in relieving asthma problems. These are:
Boil 5 or 6 cloves in a glass of water and add 1 spoon of pure honey to it. Consuming this mixture freshly helps to relive the problem readily.
Regular consumption of crushed garlic cloves added with 5 spoons of boiled milk gives good relief from the asthmatic attacks as well.
Warm soup made of radish, lemon and honey also provides good relief to asthma suffers.
Besides the above home remedies, practicing yoga is another great natural method which can help in treating the asthma problem naturally at home.
Although it may take some time to see the positive results but the life becomes easier if you try yoga for long term on regular basis.
Regular walking in the morning and evening along with deep breathing also helps in strengthening the respiratory muscles effectively. This in turn provides a good prognosis from the asthmatic attacks!
Eliana is a nurse by profession who loves writing online, spending time with her family and caring for seniors. She has already worked as an associate editor on various mom, baby, home appliances, kitchen and healthy living blogs. In her spare time she also enjoys drawing, reading/writing kindle eBooks and improving her skills a bit.